Women in Manufacturing and the Art of Claiming Credit Where Credit is Due
Interview with Heather Johnson, compliance officer at Conrad Industries.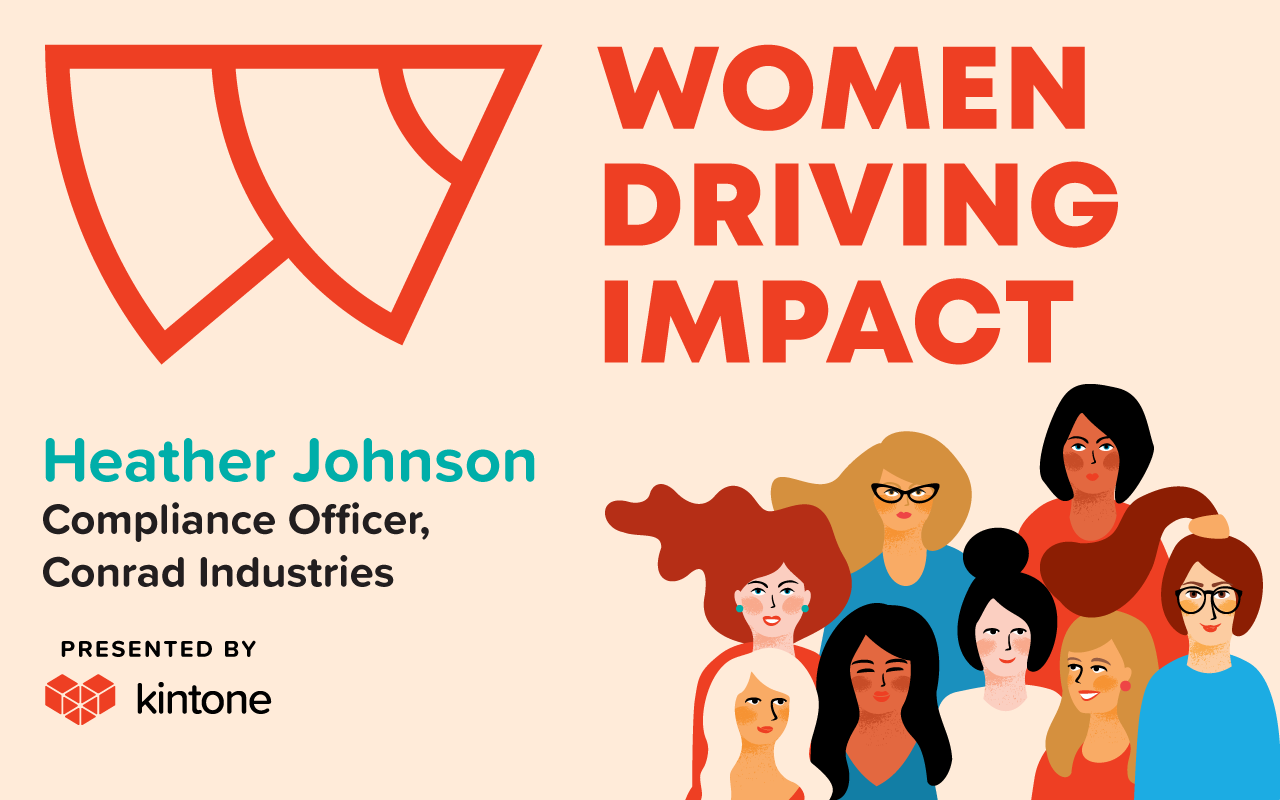 Listen to the podcast episode here:
Getting recognition is a skill, but it shouldn't be. Credit for ideas is too often distributed unfairly, with those most able to put themselves forward getting the lion's share. Research has shown that women in particular get less credit when working in teams with men. As our economy continues to evolve toward more interconnection and teamwork, how do we make everyone is getting the recognition they deserve?
In this episode of Women Driving Impact, Heather Johnson, compliance officer for Conrad industries, talks to host Nicole Jones about how to bring more women into science and tech. She also gives tips on the art of claiming credit where credit is due, as well as balancing work with new life changes.
A self-proclaimed "Jane of all trades, master of none," Heather has a degree in computer information technologies, and her greatest passions are teaching and helping others pursue their goals. In her personal time, she loves to volunteer and work with children and families. The newest adventure for Heather in 2019 is foster parenting.
Here is an extract of some of the key takeaways from this episode: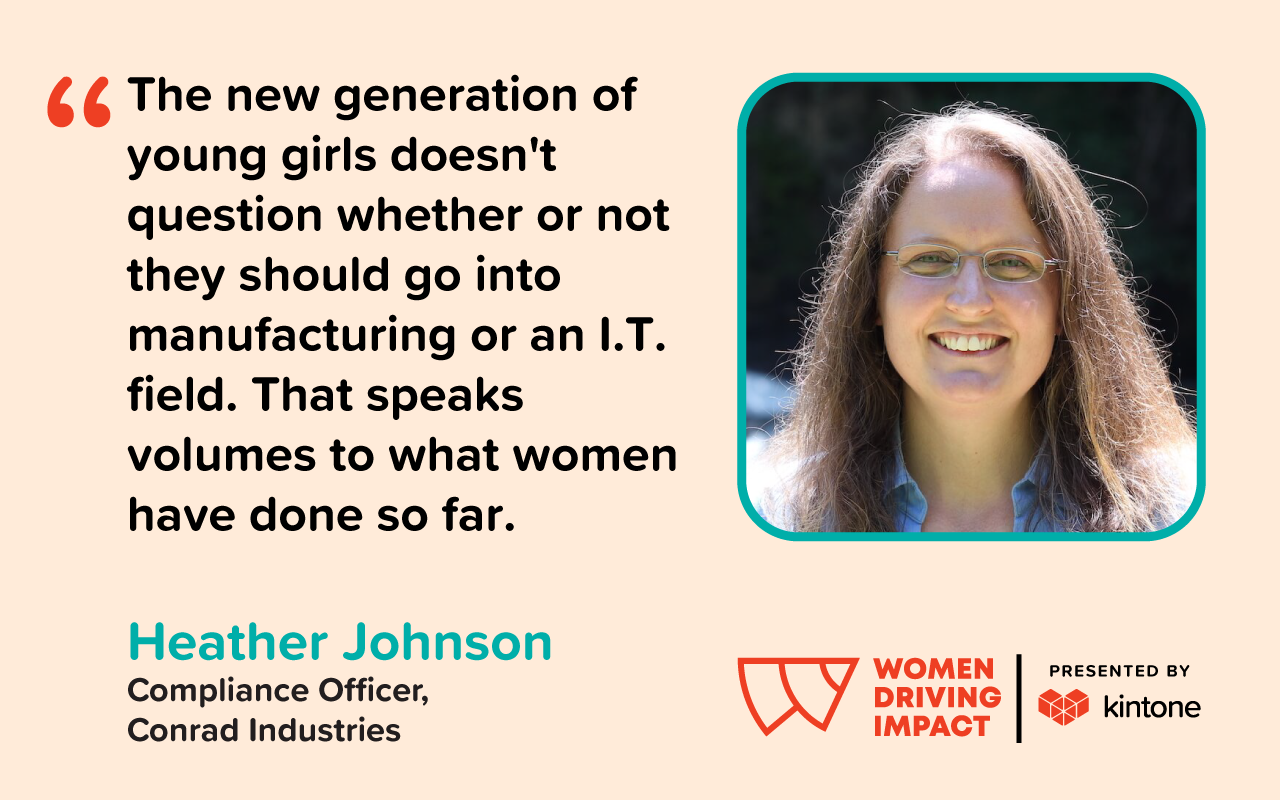 A willingness to try
Nicole: Can you tell me a bit about your professional journey and how you got to where you are today?
Heather: I stumbled into I.T. by accident. It started with a PowerPoint class that was hosted by my mentor at my church. She encouraged me to pursue college, so I ended up going to A-B Tech to get a two-year degree in computer information technology. My first I.T. job was as an intern at Conrad. I started out in a research and development project doing MySQL coding, and then got into the compliance role. It has continually morphed from there.
Nicole: How were you able to stay your authentic self through all these changes?
Heather: Authenticity is about integrity, being honest about what you're good at. I knew hardly anything going into my roles, but I was willing to learn and at least try. Being authentic also means being realistic, and you should be the same no matter where you're at, whether it's home, school or work. Who you are should come out in what you do, not the other way around.
If you love it, go for it
Nicole: What has great teamwork looked like for you?
Heather: Before all of this, I worked for nine years in fast food, and we had a term called "aces in their places." A huge key to teamwork is recognizing that a leader can't do everything—and that's OK. Everyone has something to bring to the table, regardless of experience, age, gender, whatever. Everybody has a sweet spot they can fill to benefit themselves and the team.
Nicole:There has traditionally been a lack of female representation in manufacturing. Where does this lack come from?
Heather: I'm sure there are many reasons, but based on my four years at Conrad, one thing I've noticed is a lack of encouragement. We get stuck in certain mindsets and don't ask why things could be different. Women and men need to encourage young ladies to pursue manufacturing jobs. At Conrad, two of our teams are run by women, as is a big part of management. It takes a team effort.
Nicole: What message does having women in these management positions send to women who are interested in working in manufacturing?
Heather: It shows that what matters isn't gender. It's skillset, experience, passion and a willingness to learn. I don't have a degree in everything I do, but I'm willing to put myself out there. I'm a firm believer in that you should do what you love and enjoy what you do. It shouldn't be a question of, "I'm a girl. Should I pursue manufacturing?" It should be "I love this. I should go after it."
A strong mentor can be life-changing
Nicole: What role has mentorship played in your career?
Heather: Mentorship is the reason I have my career. My mentor is phenomenal. Her name is Effie Woodard, and she has mentored me in both business and life. And she's tough, she uses a lot of tough love.
I also grew up around a lot of strong women. When I went into computers, it never dawned on me to go, "This is a guy's field, maybe I shouldn't be doing it." It never registered that I had a reason to be intimidated or a reason to second-guess myself.
One thing I want to point out is that there's a rising generation that thinks differently. The new generation of young girls doesn't question whether or not they should go into manufacturing or an I.T. field. That speaks volumes to what women have done so far. There's still work to be done, but I think that what has already been done needs to be noted just as much, so that we don't get discouraged.
New technology brings new opportunities
Nicole: Manufacturing is undergoing exciting changes. Could you tell us about the kind of technology you're currently using?
Heather: The big one right now for us is definitely Kintone. We are building our own system which will eventually move into the factories and help with production and administration processes. Kintone allows us to build apps that are representative of processes that we're able to standardize. Thanks to the Kintone platform, we can collaborate and develop without crippling our factories. It speaks volumes that we can have that level of change and not miss a beat. Of course, that also opens up a lot of opportunities for us to branch out into other areas and explore other technologies as well.
Nicole: What was it like transitioning to Kintone?
Heather: I'm a bit of a geek, so I had an absolute blast with it. It was new and challenging at first because it sounds too good to be true. When something does what it should do, that throws people. We had to develop a proof of concept and test it, but that was easy. Once we got that first thing out of the way, we had buy-in and we had support. Then when our CEO presented a larger project, and we were able to turn that around in a much quicker time than they anticipated, that was really the catalyst that allowed us to start growing in just about every area of our company.
It's been a lot of fun because the more people get involved, the more their excitement, energy and creativity get to take place. That's my favorite part—watching people own it in their own lives.
Recognition thrives in a safe work environment
Nicole: I want to move on to the topic of credit. What can employees do to make sure that everyone gets the recognition they deserve?
Heather: I try to celebrate what each person accomplishes, whether it's big or small. You should celebrate the small stuff because that's what drives you to the bigger stuff and keeps people engaged and encouraged. Celebrating what each person brings and accomplishes is critical.
It goes back to basic manners and decency. Treat people with the same respect and honor that you'd like to receive.
Nicole: How can you present an idea in a group so that you come out owning it? Or does that even matter?
Heather: You should go in with confidence. Don't go in apologizing for overstepping the bounds a little bit and having a good idea. People get really concerned about boundaries: "That's not my place, that's not my job, that's not my pay grade." But having confidence and knowing that you can follow through allows you to own it in a way that no one else can. People may try to take it over, but they won't be able to because it'll be obvious it was your idea. I've been in situations where someone has tried to take credit for my ideas, but in the long run it doesn't work because I owned it completely. Don't just own it in what you say, but own it in your follow-through.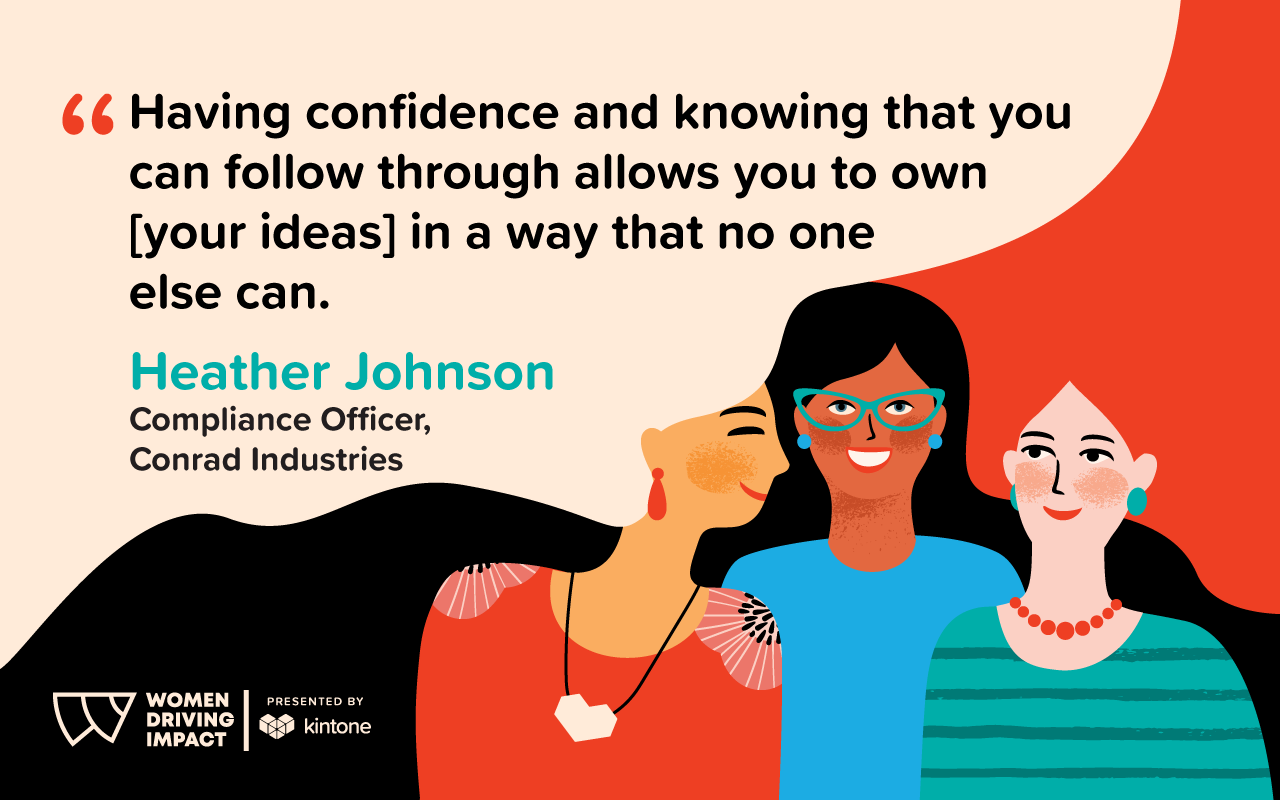 Nicole: How would you help someone on your team if you notice they aren't getting credit for their ideas?
Heather: I'll bring them back into the conversation, or in other conversations. For instance, I'll mention their name, or that they had a really good idea. Reinforcement is important, not just in that one moment, but continually throughout the process. When you can, you should reinforce ideas, whether it's your own or others', not in a bragging sense but just validating what was presented.
Nicole: Also, calling it out when someone tries to take credit for someone else's idea is important. Sometimes they don't even realize the kind of action they're taking.
Heather: Absolutely, it's team thing. A team is like a family, there's a time and a place to ruffle feathers, a time to speak up, and also a a time when you hold it until people are ready to listen. Just because we have to address hard issues doesn't mean that we're not a team.
That's something I learned from my mentor in ministry. We have very hard discussions like that, but we lay it on the table, and that applies in the corporate world just as much.
Being vulnerable is never easy, and a lot of people are not comfortable with it. But people aren't comfortable with it because they don't feel safe, so it requires a team to create a safe environment where people don't attack just because someone presents something that's uncomfortable.
Nicole: I'm glad that companies are finally realizing the importance of creating that safe environment.
Heather: Yes, and a big part of that is the ability to relinquish power as a means of control. Letting go of that feeling of "I have to have control" makes it easy to be vulnerable, because there's no longer a fight to control emotions or speech.
Focusing on what's important
Nicole: You are about to become a foster mom, congratulations! It speaks to who you are as a servant leader. How will you balance that with your work?
Heather: I don't have that figured out yet! There are a lot of incredible people that figure out how to do this every single day with one, two, three or more kids. So I use that as my inspiration: I don't necessarily know what's going to work for me, but a lot of people have pioneered that path before me. It's doable, and that's encouraging. The main thing is keeping focus on what's most important.
Nicole: Will you take advantage of flexible work arrangements?
Heather: I work several jobs, so it depends, what I ask for will be different for each of those roles. It's important to have the ability not to take off every five seconds, but to do what's necessary to meet the immediate and emotional needs of your child. There's a balance to everything, you don't want to abuse either side, but parenthood is probably one of the most important things that anybody can tackle, whether it's a foster parent or a biological parent or a family member that's helping another family member's kids. It takes a village to raise a child, and the work environment plays a huge part in that.
Nicole: What is the most important part of creating that work environment?
Heather: I think it's creating a standard, knowing what's important for your people. In almost every case, it's going to be their families, so if you value your employees, you will value their family needs. This shouldn't be a novelty to want to take care of a family, because that's the core of society. And that support can be fostered at any level. When I got the news, 10 different people came to me and said "anything you need, just let me know." They were not at a manager level—this can be fostered at any level of an organization.
---
Podcast by Nicole Jones. Excerpt adapted for Kintopia by Alex Steullet