By Letting Win-Win Culture Take Over, We're All Losing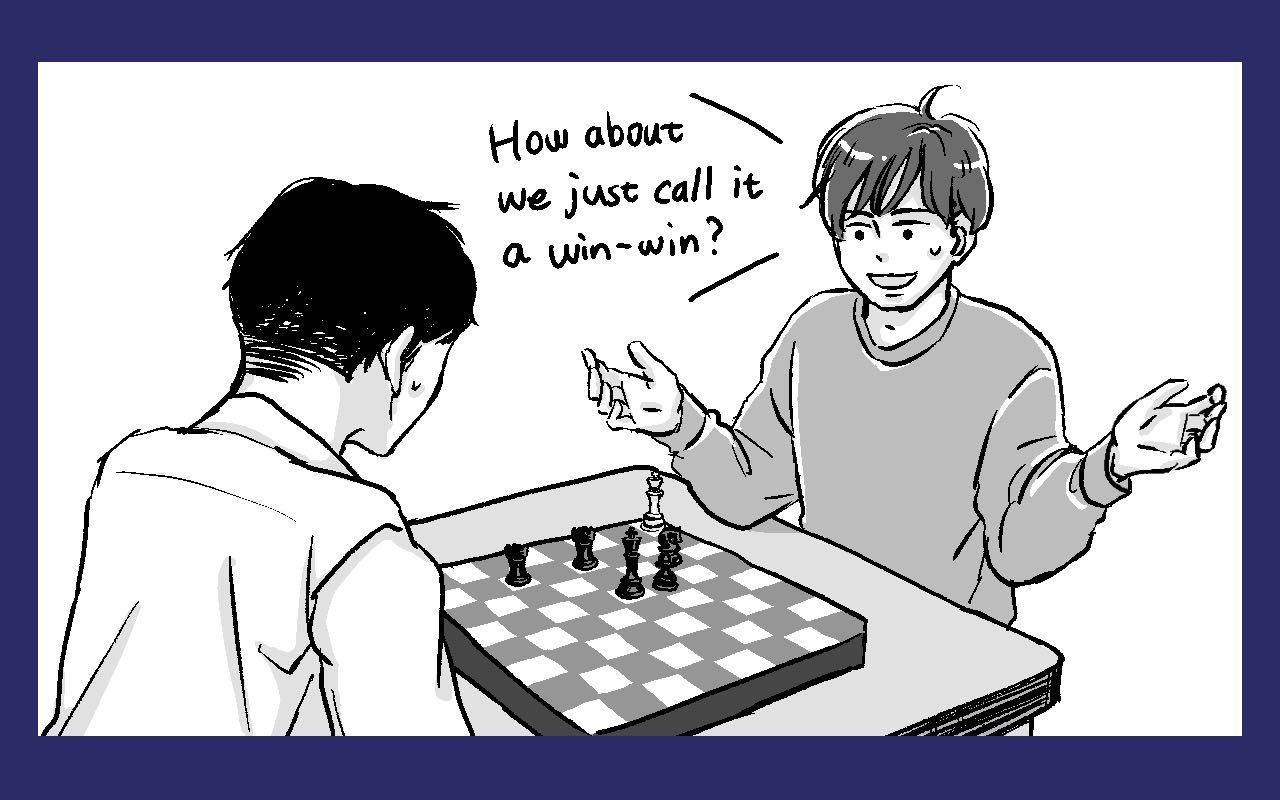 Have you heard my awesome idea to improve productivity while making your whole company happier, healthier and more motivated? It's perfect. Even better than perfect—it's a win-win!
If you think my idea sounds too good to be true, you're right. Most ideas sold as the ultimate win-win are in fact the simple product of clever framing.
Modern business culture dictates that the best solution to any problem has to be beneficial to all parties. After all, what could be better than nobody losing? This way of thinking has become so pervasive that for some, a good idea is by definition one where everybody wins—and any other solution would at best be sub-par.
What ensues is a framing war. Rather than acknowledging that problems can be complex, multi-faceted and ridden with unforeseeable consequences, we brush away the doubts and negativity to present only positive outcomes. Our obsession with positivity is leading many leaders to dismiss legitimate concerns as pessimism or a lack of motivation.
In other words, by allowing win-win culture to take over our workspaces, we're all losing.
Not every solution can be painless
In a previous life, when I was studying political science as an undergrad, the idea of a "win-win" was sold to us as the Holy Grail of conflict resolution. It was a solution so rare it was practically non-existent—after all, if such a perfect solution were possible, there would often be no conflict in the first place!
However, in recent years the goalposts have shifted. TED talks and business publications in particular thrive by selling us ideas packaged as simple, life-changing realizations that indiscriminately benefit all of society. A large-scale example, brilliantly illustrated in Anand Giridharadas' Winners Take All, is that of corporate philanthropy.
In a nutshell, corporate philanthropy is when ultra-wealthy companies and CEOs, the winners of our modern slanted capitalist system, give unprecedented sums of money back to civil society in the form of charitable donations.
Go to any of the websites of these major corporations and you will see them flaunt their generosity as a textbook win-win. Their alms benefit society as a whole, while simultaneously boosting their corporate image and giving their employees a deep sense of purpose. However, dig a little deeper into the research and you'll find that the reason they were able to amass so much wealth in the first place is the result of tax loopholes, clever accounting, rampant globalization and a predatory economic system that is slowly driving the haves further and further from the have-nots.
The parallel between this elaborate global sleight of hand and your everyday office politics is the way we come up with solutions to large problems. Loss aversion and a warped understanding of psychological safety is not just driving us to frame our ideas in unrealistically positive ways, but is also causing us to avoid difficult conversations and decisive action in favor of shallow fixes and good vibes. Much like paying our fair share in taxes, the best solutions to complex problems are usually painful, but necessary to build a fair and functional society.
Favoring blamelessness over positivity
In theory, it makes sense that a large win and small loss will bring more overall benefit to a company than a small win-win. Often times, deep-rooted systemic issues in company culture or processes are better addressed by a painful large-scale adjustment than by cosmetic surgery. However, recent shifts in corporate culture are pushing bold thinking out of the scope of what is deemed an acceptable solution.
Let's imagine a scenario that many of us have experienced at a certain point in our jobs: work speed. On any given project, some members are slower than others, which can easily lead to coordination problems and inefficiencies. In some cases, a member is so slow at a certain task that they hold up the entire project. The immediate result is a general drop in morale—the faster members are convinced their slower colleague is slacking or incompetent, while the slower member feels misunderstood and pressured to perform beyond their abilities. These situations can quickly fester into a toxic work environment.
Dealing with this problem is very delicate. A win-win mentality dictates avoiding all criticism and finding a solution that's beneficial to all parties, which means finding a way to support the slow members while alleviating the frustration of the faster members. Managers will often offer the slow member support in secret, or designate a mentor to guide that member through their tasks.
In moderation, such solutions can help train the slower member and make them more efficient, but usually they're short-term fixes that harm the team in the long run. It's neither possible nor desirable for every team member to be taught every skill in equal measure.
Another common way of dealing with pacing issues is to enhance team cooperation through teambuilding. Leaders organize feel-good events and activities for everyone to get to know one another better. The goal is for all members to experience empathy for each another, so that if one member is in trouble, the whole team naturally steps in to help.
Again, such an approach will work to a degree, and a healthy amount of teambuilding will undoubtedly increase team efficiency and empathy. However, too much teambuilding is time-consuming, and past a certain point, teams end up spending more time talking about their problems than they gain from increased productivity. We need to be able to recognize when teambuilding serves a practical purpose, and when we are just curling up with a tub of ice cream and hiding from reality.
Instead, team coordination issues are best solved by first looking critically and objectively at the situation at hand. Specifically, this will often mean a stern conversation about the skills of the slower member, and whether the current distribution of tasks is really the most efficient way to run the project. I don't mean pointing and yelling at someone 1950s style until they break down into a pool of tears—that would just compound the pressure the slower member is under. I mean blamelessly looking at the objective circumstances that are causing the pacing issue—in other words, laying out problems as something wrong rather than someone wrong.
Such an assessment will likely uncover some hard truths. Maybe your slow member is not well suited for the tasks they're taking on. Maybe your fast members are not doing their work properly and the slow member is picking up their slack. Maybe there's a gap in expectations that can easily be fixed. The solution is bound to end in a loss for someone, but it will nonetheless be a valuable one that, with proper explanation, the losing party should be willing to accept.
There is little to be learned from winning
When I started off in my professional life, I wanted to be awesome at everything. I was driven to become able to work autonomously and produce quality output in record time. Back then, a more senior colleague told me that the best skill they'd ever learned was knowing when to give up—but I didn't feel like that advice applied to me. My work was divided between what I did well and what I was learning to do better. Anything else would be accepting my own limitations, which I wasn't prepared to do.
Then I started losing. Certain people were just better than me at certain things. No matter how hard I tried, I wasn't able to stand out all by myself. That feeling grew when I started working at a Japanese company, in Japanese, with Japanese colleagues. I realized that however hard I tried, I would never be able to write as good an article, give as compelling an argument, or deliver as inspiring a presentation as my native-speaking colleagues. I had a different set of skills, and by trying hard to get up to par with everyone else, I was fulfilling my own egotistical ambition rather than contributing effectively to my team. My only choices were to give up or to burn out. A lose-lose. I chose the former.
Giving up is a loss. Let's not partake in the futile mental gymnastics of pretending that every obstacle and setback is a win in disguise. However, by learning to accept defeat and objectively assess our strengths and weaknesses, we can help our team function better. By accepting a small personal loss, I can contribute to my team's major win.
While studying political science, I was also an avid chess player (albeit not a very good one). My teacher used to tell us that the best way to feel good was to win, but the best way to learn was to lose. Not get destroyed—you don't get better by getting crushed six ways from Sunday. But when we win at chess, we win on the strength we already have, whereas when we lose, we discover something new.
The same way losing at a game is a normal part of playing, losing at work is part of life. If we fail to accept a loss, tip-toe around problems to avoid creating losers, or delude ourselves with an atmosphere of comfortable positivity, we cannot expect to grow and improve. When framed objectively and blamelessly, people can handle a loss. And more often than not, it's those small losses that, down the road, lead to the really big wins.
---
Written by Alex Steullet. Edited by Mina Samejima. Illustration by yummi.