When the Workstyle of the Few Becomes the Reality of the Many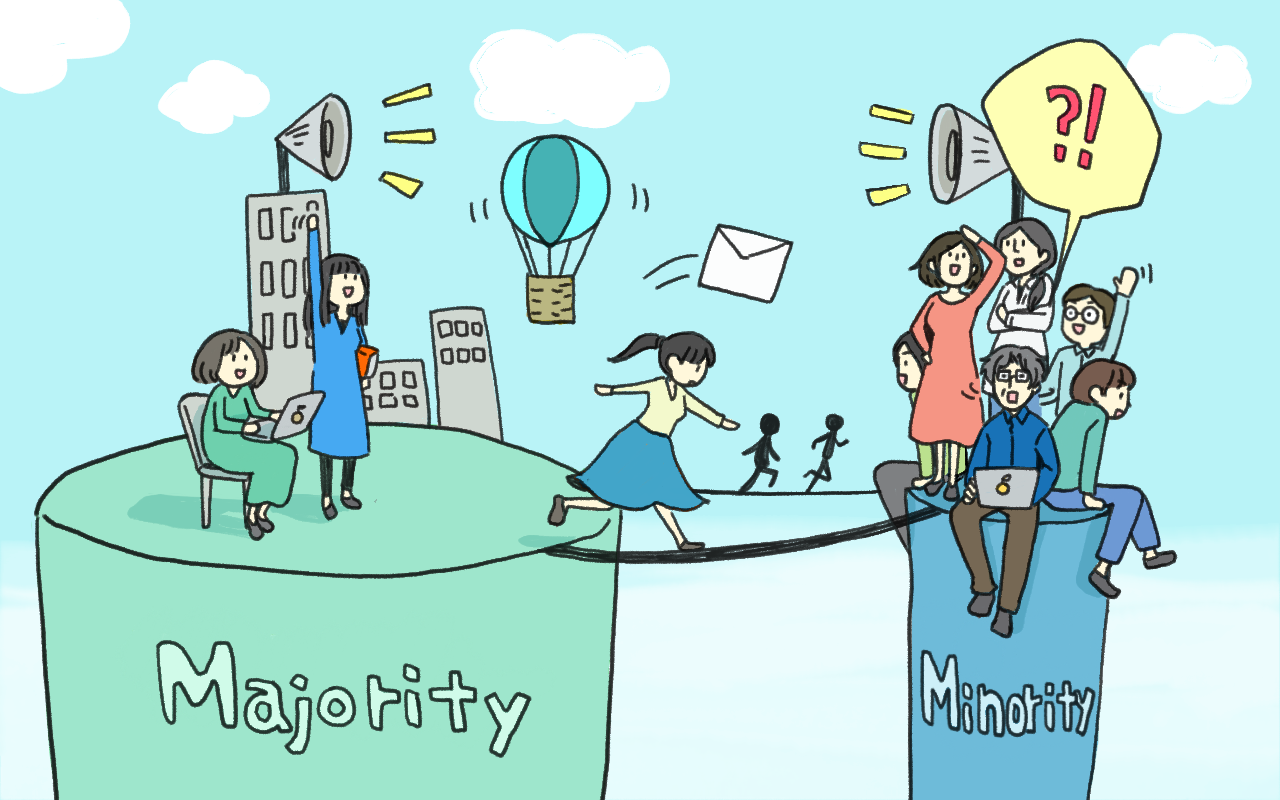 Yoshiharu Takeuchi manages a non-profit organization in the Japanese countryside while also working part-time for the Japanese software developer Cybozu, the parent company of Kintone. He writes articles in Japanese regarding his lived experience as someone with a unique workstyle. Here, we have endeavored to translate his thoughts on interacting with people whose workstyle is different from how most people work.
As more companies adopt work-from-home policies, we increasingly hear people say they feel lonely, or that communication with their colleagues has become difficult. However, these problems are well known to those who have been working remotely for a long time.
Issues like this one only make it to the forefront once they start affecting a majority of people. When it's a minority that has to deal with them, they're often not well understood. With remote work becoming widespread, we have an opportunity to reconsider how we, in general, think of the issues that affect a minority of people.
How does working from home make you feel?
Over the past several months, remote work and work from home have been forced upon us. Many people are feeling the weight of these new policies.
How are people coping with this situation? How is everyone feeling?
If you are just now experiencing remote work for the first time, perhaps some of these issues will sound familiar to you:
How hard it is to communicate online
Searching for the right words when writing to your colleagues
Getting stuck because you need information but there's nobody nearby you can ask
The number of online meetings you have in a day leaves you feeling shattered
The process of dealing with documents like receipts and invoices is annoying and tedious
You're not used to your new chair and your lower back hurts
Without a proper keyboard and monitor, you feel exhausted
You lack exercise. Your body withers.
You're working, but your family keeps asking if you could "help out a minute"
Your kids are noisy and it's hard to focus
The electricity bill is going up
You're paying more for food
You're feeling lonely
You may have even thought:
I want to go out
I (surprisingly) actually want to go to the office
I miss random small talk
I want to go to lunch with people
I want to go for after-work drinks with people
I miss having people around
Of course, you probably also have those who think, "Working from home is way better than I thought," and "As a matter of fact, it's much easier for me to focus at home than at the office." However, I do think that most people will feel a sense of hardship in one way or another.
Since working from home has recently become a reality for many, the troubles we tend to face have become more salient. However, for me, this is by no means a new situation.
I started working for Cybozu in May 2017. I work exclusively remotely, two days per week, from my home in Japan's Niigata prefecture, which is roughly a four-hour drive from Cybozu headquarters in downtown Tokyo. Moreover, since I already have a primary job, my work at Cybozu is more of a side job.
As a matter of fact, I had already been working from home for some time as a freelancer, before joining Cybozu. I'd say I've gotten pretty used to it. However, working from home while being part of an organization has proven to be very different from working as a freelancer.
That's just the way it is
Since I started working at Cybozu, I've been proactive in bringing up the issues I listen above. However, frankly speaking, in the three years I've been working here, there have been plenty of times where I haven't felt like I've been understood.
Take for example virtual meetings. When everybody logs in from their respective homes, online meetings may feel like a horizontal interaction. The conversation flows surprisingly smoothly, and people start feeling like they can easily get on with their tasks without having to meet in real life. In fact, some people may even prefer virtual meetings over in-person meetings, since hierarchy becomes less obvious.
However, from my experience the situation becomes quite different when only one person is participating from home. When the video conference is one against many—meaning most participants are joining in person at the office—the remote participant can feel excluded, and have difficulty getting into the conversation.
Also, when you're the only person working from home, you're generally responsible for your own electricity and internet costs. A common subject of conversation among people who often work remotely would be "So, what about internet and electricity?" Most times, the answer would be, "That's just the way it is."
Moreover, as I touched upon in the beginning, remote work is lonelier than I would have expected. You start longing for company. Sometimes, you just really want to chat with people, or go out for drinks. Now, because of coronavirus, online drinking parties have become more common, but before everybody became remote, they didn't really happen. Once again, that's just the way it was.
In fact, in the few cases where I would join drinking parties remotely, I would feel isolated. When Cybozu has company-wide events like hanami (a picnic under the cherry blossoms, traditional in Japan) or an anniversary celebration, they always put in place a way for the people who aren't at the office to participate.
However, those at the office would be drinking beers and having fun together, whereas I would be by myself. Sitting there looking at people through a screen isn't really enough to overcome loneliness.
I understand the reason things became the way they did. Most people had no experience of what it was like to work remotely full time. One way I would cope with the situation was to remind myself that things were that way because I chose to work remotely, and that my company was doing me a favor by allowing me to work from Niigata.
When the few become the many
However, as soon as everybody had to start working remotely, the situation changed.
For example, the yearly hanami party went full remote. Those who wanted to participate could get a "hanami set" delivered to their home.
In addition, while reimbursement for commuter expenses was stopped as people no longer went to the office, the company instead started providing a monthly allowance to all long-term, short-term and contract workers to cover electricity costs.
On top of that, many employees began complaining that it was hard for them to work at the desk they had at home, or that their chairs were uncomfortable and made their backs hurt, or that poor lighting strained their eyes. The company responded by providing a 30,000-yen (roughly $300) allowance in order to help buy a chair, a table, and better lighting.
You may not believe me as I'm writing this about my own company, but I think Cybozu is a good place to work. Since Cybozu is not my main employer, I know how unforgiving society can be. I can say based on experience that companies like this one are few and far between.
On the other hand, I also can't help but think that remote work didn't begin with the coronavirus. I have been doing it non-stop for three years.
The whole situation made me realize that when the minority says, "We need help," they don't really get understood. However, as soon as the majority cries out for help, things change completely, and with impressive speed.
Now that so many people have had first-hand experience of working from home, there is a greater understanding of its challenges, which I'm very happy about. I expect that things will get even better moving forward.
However, I also understand that the reason things finally changed is that coronavirus forced lots of people to work from home. Had there not been an emergency situation, I would probably still be sitting here thinking to myself, "Oh well, that's just the way it is."
That's what got me thinking: Instead of waiting for an emergency situation to get the majority to realize what it's like for the minority, wouldn't it be much better if minority opinions were listened to in the first place?
This time we're talking about working from home, but there are many other kinds of minorities throughout our society.
Being respectful of the few
What would it take to create a work environment that would be welcoming of people from various minorities?
One of the corporate principles at Cybozu is the value of respecting diverse individualities. Part of that is what we call "100 people, 100 workstyles."
Generally speaking, "diverse individualities" refers to what makes people unique individuals, like their personalities, strengths and weaknesses. Other aspects like gender and nationality would also presumably be included.
However, what this case got me thinking about was that diverse individualities should also incorporate the environment in which each person is placed. For example, under the umbrella of "people working from home," you will find those who chose to do so because home is their favorite place to work, or because they wanted more spatial and temporal freedom.
But then, you also have people who don't really get to choose their environment. Those who have to take care of a parent, or whose partner got transferred, or who have to work while taking care of their children. Also those who are forced to work remotely due to a physical or mental condition.
Many people who are forced to adopt these workstyles are part of a minority group. They each have their own individual circumstances, which is why they feel grateful for being in an environment in which they are able to work. Because of that feeling, it can be hard for them to speak out about their hardships.
Unfortunately, the people who aren't in those same circumstances will have trouble understanding the reality of persons in the minority. Their response probably won't go beyond "that's just the way it is."
Don't get me wrong, I don't think we have to go as far as listen and accept every opinion voiced by any minority at any time, however unreasonable. I personally am already very grateful that people with special circumstances, like myself, have flexibility in choosing our work environments.
However, when people do have the courage to speak out, I believe their opinions should at least be heard. The needs of minorities shouldn't be seen as fundamentally different from those of the majority.
In conclusion, it seems like remote work and work from home are bound to continue for a while longer. Good job on making it this far! Moving forward, let's keep in mind that there is a wide variety of individuals grappling in their own way with their own unique challenges.
Come to think of it, in a way it's as if all of those so used to being squarely in the majority have suddenly each become part of their own little minority. What strange times we live in. I hope that sooner rather than later, we'll all be able to get together to have lunch and go out for drinks.
In the meantime, let's take a moment to consider how workstyles that were once considered "special" and only applied to a minority have now become the norm, and how as a society we have become better at appreciating diverse individualities in the workplace. I can't help but think that these extraordinary times have the potential to become a catalyst for lasting change.
---
For more information on Cybozu's policy of 100 people, 100 workstyles, check out the article below.
Original Japanese article by Yoshiharu Takeuchi. Illustration by Eiko Matsunaga. Translated into English by Alex Steullet. Edited by Alex Steullet, Ade Lee and Mina Samejima.