The Pandemic is Jeopardizing Workplace Friendships. We Can't Let That Happen.
Interview with friendship expert Shasta Nelson.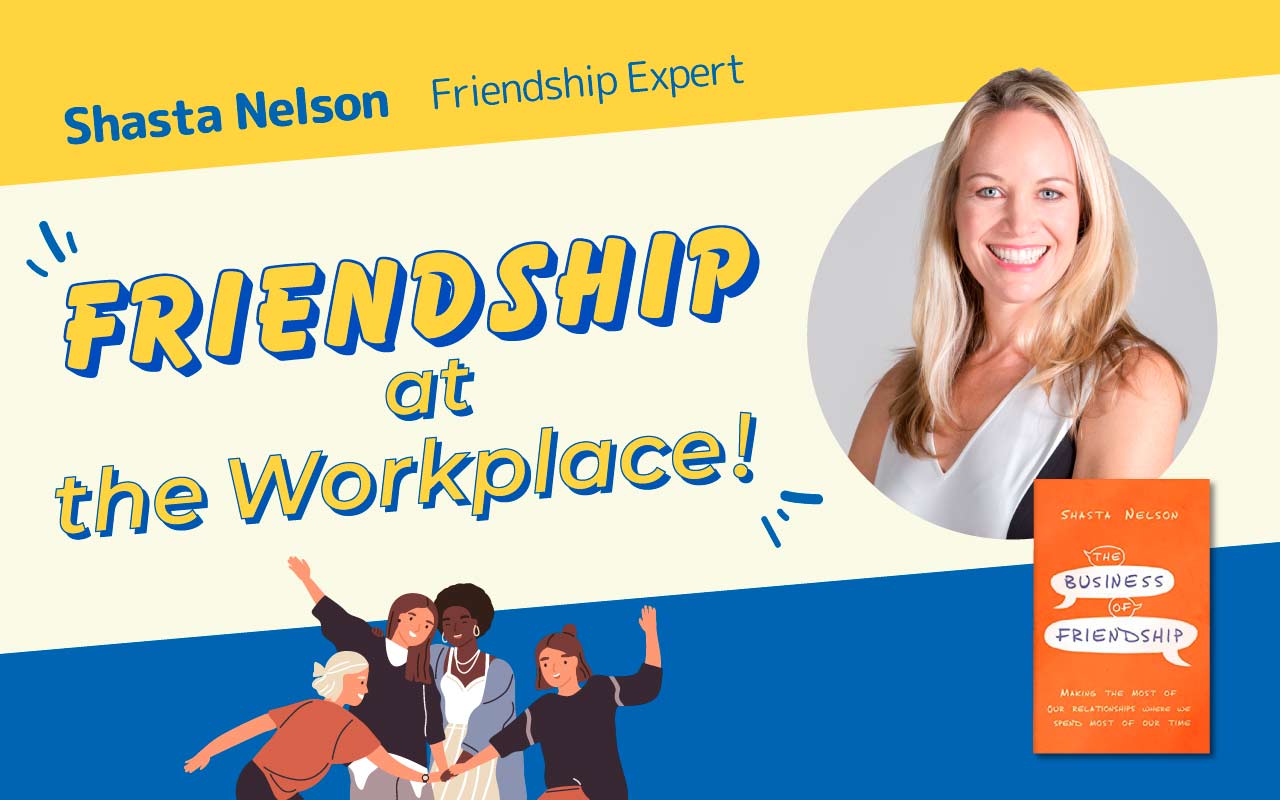 Now that the health of our communities hinges on us staying away from one another, maintaining good work relationships may not seem like a top priority. After all, it's exhausting enough to schedule video calls with friends and family; do we really have to check up on Bob in accounting? He's a nice guy, but surely he has his own problems to worry about and doesn't want to be bothered by his colleagues, right?
Turns out it's not that simple. Having friends at work is pivotal not just for our own well-being, but also for the functioning of our teams, leaders, businesses, and society at large. To better understand the importance of workplace friendships and how to nurture them in these extraordinary times, I hopped on a call with friendship expert and author Shasta Nelson.
Better for people, businesses and society
Alex: When I entered the workplace, it was understood that work was first and foremost a place of business. Making friends along the way was icing on the cake. But your research shows this isn't the healthiest approach to friendship in the workplace. Why do we need friends at work?
Shasta: The number one reason we need better friends at work is that we need better friends, in general. Most of us are wishing for more meaningful relationships. With loneliness numbers being as high as they are around the world, systemically we're clearly doing something wrong. We need to change the way we connect with one another.
But most of us feel too busy. From a pragmatic perspective, if we need to build more relationships in general, it makes sense to start at the place where we spend most of our time. Just like school when we were kids, work is a place where we interact with the same people on a regular basis. I'd go so far as to say that it's almost impossible for our relational needs to be met if every day, we're ending our work day lonely.
This is important because friendships are the number one factor for our happiness, are paramount to our physical and mental health, and are consistently correlated to our job satisfaction.
Alex: That's a solid societal and psychological case, but what about the business case?
Shasta: The science behind the business case is actually what drove me to write my most recent book, The Business of Friendship. The research of how employee friendships decrease turnover, increase engagement, and lead to better customer service has long been documented. For example, international studies conducted by the Gallup Organization over the past 20 years have shown that our "best employees are those who have a best friend at work." Additional studies from other organizations, like the Myers-Briggs Institute, corroborate these findings.
If you're more engaged in your company, you'll be more willing to put in extra effort. You're more likely to communicate better and admit to not knowing things because you don't want your team to fail. You feel safer and more supported. You treat customers better.
There have even been some really cool studies on the healthcare aspect, showing that employees develop greater resilience if they feel like they can share what they're experiencing with one another. Resilience in employees is what allows companies to bounce back from sudden shocks and keep going in stressful situations. In times like these especially, healthy relationships are indispensable to businesses.
Not all friends are best friends, but some should be
Alex: How would you define a friendship? What level of relationship are we talking about here?
Shasta: My definition of friendship is any "relationship where both people feel seen in a safe and satisfying way."
The lowest level is like the interaction we're having right now for this interview. We may not be building a friendship, but it's important that we feel seen, recognize each other's value, feel safe talking and leave the interaction feeling good.
The more you do these things, the deeper your friendships will go. One interesting study from the U.S. stated that it takes about 50 hours to go from stranger to acquaintance, 80 to 100 hours to get to friendship, and about 200 hours before we feel like we're somebody's best friend.
Of course, it's not just about spending time, but also what we do during that time. It isn't enough to just be working next to each other. We need to have meaningful interactions. When we were children it was easier to log that quality time. Now, we have to be much more deliberate to create that consistent time—an occasional lunch, while fun, may not translate to us feeling really seen and supported in our lives.
Alex: Being friendly with people at work seems quite easy, but becoming best friends seems more challenging. Do we really need best friends at work, or are we good with having just a lot of regular friendships?
Shasta: Different levels of friendship serve different purposes. Not everybody has to have a best friend at work. That being said, those who do have one report loving it.
The Gallup study I mentioned earlier actually got a lot of pushback because their engagement question was specifically "I have a best friend at work." They tried alternatives, but one of their lead researchers told me they ended up sticking with the term "best friend" because of how strong the correlation with engagement was. The data shows that having a best friend is a determining factor. It makes a real difference.
Positivity, consistency and vulnerability: the building blocks of friendship
Alex: Could you explain in a bit more detail what it takes to build friendships at work?
Shasta: I go into a lot more detail in my book, but at a basic level, you need three things: positivity, consistency and vulnerability.
Positivity is when both people have a positive experience. The interaction should lead to both people experiencing a pleasant emotion, whether it's joy, inspiration, pride, gratitude, laughter, empathy or enjoyment. We make friends because those interactions feel good.
Having a good time on its own doesn't automatically mean friendship. You need consistency, or repetition of shared experiences. To have consistency in a relationship, you need to be available, reliable and initiating. It's showing up and making time for one another in order to build memories. Without consistency, you can't have things like trust.
Vulnerability is letting ourselves be seen for who we are, admitting when we're wrong, and knowing when to forgive or apologize. It's understanding each other's personalities and knowing how the other will respond in a given situation. The closer friends we are, the more vulnerable we can be—in other words, the more we can talk without the fear of being judged.
Positivity, consistency and vulnerability are the three building blocks of friendship. Different researchers will use different words, but really these are the three things that are at the core of every friendship.
Alex: That last element of vulnerability can be a real struggle at the workplace. It's easy to interact and be pleasant, but at least in a traditional conception of workplace relationships, there are a lot of topics you're not supposed to bring up. Things like salary, promotions, politics, religion, romance and so on. Are those taboos antiquated?
Shasta: Before you go blowing up social norms, it's important to recognize that vulnerability is practiced incrementally, on a spectrum. That's especially important in the workplace, since you're trying to build an environment that feels safe, reliable and trustworthy. Vulnerability can increase over time, but only gradually and in correlation with positivity and consistency.
For any relationship, even sometimes very close relationships, there are certain topics that may not be appropriate. Certain things are better discussed with one best friend rather than another. That being said, I don't think that subjects like salary have to necessarily be off-limits.
The most important thing when building vulnerability is to combine it with positivity. If you want to talk about salary, don't share yours just to brag. At least try to do so in a way that leaves the other person feeling better. If my salary is higher, perhaps we could brainstorm a way to help you advocate for a raise, which in turn could help us bond and build our careers. The goal isn't just disclosure; it's that both of us come out of the interaction feeling better than when we went in.
Overcoming pandemic blues
Alex: Ever since the pandemic hit, I've been finding it harder to develop relationships. It's harder to spend time with colleagues, and harder to achieve positivity when all of our interactions happen via Zoom. How can we build friendships better during a pandemic?
Shasta: The number one thing to do for those who haven't yet is build new consistency. Don't wait for coronavirus to be over and expect your prior friendships to just be waiting there for you. This is not just a short-term thing—we need to be mindful that things are going to take time to get back to normal, so we need to start initiating.
That's a real bummer, because the one good thing about workplace relationships is that consistency was a given. We were getting paid to be in the same place. That's no longer the case, so we need to create a new pattern.
I hear a lot of people taking this lack of consistency personally. Their colleagues aren't reaching out, so they start to think, "I guess they didn't really care, or didn't like me as much as I thought." A lot of us are prone to take that silence personally, when in reality it's just a sign that we have yet to figure out a new pattern for our interactions.
That being said, a lot of us have figured out the consistency issue thanks to new technology. For those people, the bigger problem tends to be positivity. People are "zoomed out." They are leaving interactions feeling exhausted rather than uplifted.
To those people, my first tip would be: Think of how you can make your interactions more positive and meaningful. That could be as easy as leaving time to check in, ask personal questions, reflect on issues you're facing. Make sure both parties are present and being seen.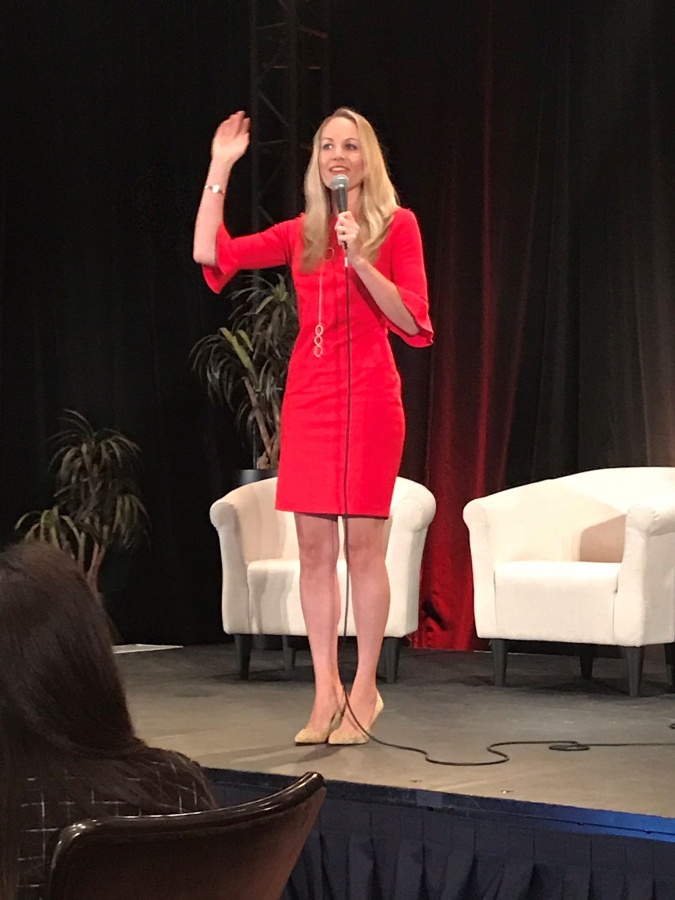 Shasta: Here, managers can play a key role. One of my favorite things a manager can do is pick your favorite positive word—for example pride, inspiration, enjoyment—and brainstorm the smallest and biggest things your team can do to help everyone achieve it. You don't need to end the meeting with a definitive solution, just have fun and enjoy the interaction. Just opening up space for those kinds of conversations tells your team you want this pleasant feeling for them and will give you ideas of tangible actions that can help produce it.
Another thing you can do is schedule a phone call where you each go for a walk. Go outside, get some exercise while also connecting. You don't even have to have video on. In fact, it's important to be strategic about when to use video, because it may add to the interaction, but it can also be exhausting.
Just remember that whatever it is you do, you have to do something. Relationships wither and die without consistency and positivity.
Alex: That all sounds like a lot of pressure. How much of maintaining relationships is on the individuals, and how much is on the leaders and the organization?
Shasta: If I could magically change anything, it would be structural. This is a systemic issue. With over 60% of people reporting loneliness, this is not us personally doing something wrong.
Don't get me wrong, I don't want to leave people feeling like victims. There are definitely things we can do individually. But I think managers could be doing a lot for us right now. For example, allowing people to work fewer hours so that we aren't so exhausted by video conferencing and have more energy for building relationships. With the pandemic, we're now all being productive in a different way. Although honestly, I don't see that happening.
Another thing managers could do is take responsibility for positive interactions. Use team time and meetings to check in, help foster and facilitate conversations. A particularly useful tool is to have smaller conversations using virtual breakout rooms so we can break into smaller conversations.
I've also heard great feedback from one manager who put together an optional program that did match-made phone calls for people throughout the organization. This was especially appreciated by newer employees, as well as those who naturally need more interaction. Every Thursday at 10 o'clock, you'd get a message saying, "Here's your phone call!" It's much easier for a manager to facilitate these kinds of exchanges than it is for an employee to reach out to a random person in their organization and say, "Hey, you want to call and talk?"
Overall, companies could be doing a lot more to talk about the issues people are facing. Telling those extroverts who are dying at home right now that what they're feeling is normal, and leaders are there to help. Friendships are a human need; companies need to recognize their importance and give permission for them.
Stepping out of our comfort zone
Alex: I want to touch on the topic of diversity. It tends to be easier to make friends with like-minded people. I work in Tokyo at an office that's 96% Japanese, and the only people I meet outside of work are the other native English speakers. While that kind of behavior is natural, I also feel like it creates a bias against minorities. What are your thoughts on that?
Shasta: As you probably know, diversity is a huge issue here in the U.S. as well, and there are a lot of conversations going on around that issue as we speak. You're right that it can feel easier to practice consistency, vulnerability and positivity with the people you feel the most familiar around—in your case, other English speakers. There's no need to feel bad about the people you gravitate toward.
That being said, for a lot of us, our workplaces are perhaps the only place in our lives where we're actively forced to interact with people who are different from us. In our personal lives, it's much easier to avoid those interactions. So if you believe in building a more united and empathetic world, you should try building relationships with people who are different. They don't have to be your best friends, but having them on that friendship spectrum—within that triangle of positivity, vulnerability and consistency—should be a priority.
So again, there's no need to feel bad about who you're bonding with now—we all need more bonding, not less—but be mindful of how much you have to gain by having a diverse friendship group. See the workplace as somewhere you can easily find people who are different from you, and get to know them better.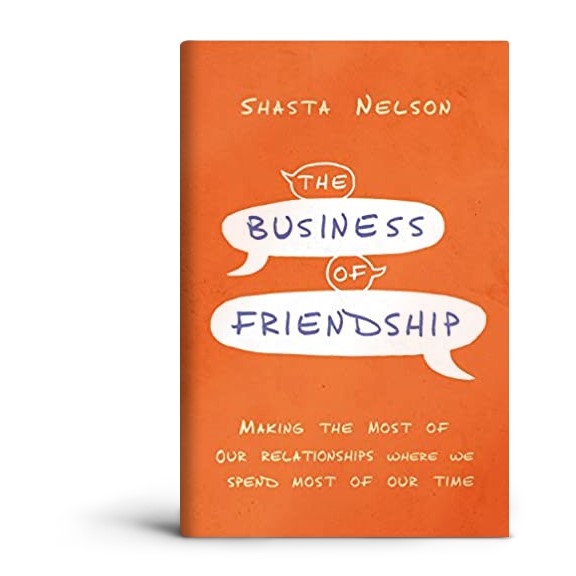 Alex: I feel like you need to have diverse friends to realize the benefits of diverse friendship. How would you explain those benefits to someone who hasn't made that effort?
Shasta: There are plenty of benefits that people may not realize they need. Things like a broader worldview, the opportunity to hear diverse perspectives, the stimulation of being confronted with a new narrative, and so much more.
Diverse friendships are also a beautiful way for us to practice empathy. Empathy is a muscle that has to be strengthened and maintained, which doesn't happen as frequently by constantly being around people like ourselves.
Interacting with people who can expose us to a different worldview makes us better people—more knowledgeable, more empathetic—which in turn makes us better leaders. Any leadership expert will tell you that empathy is essential to developing leadership skills.
In the modern economy, pretty much every job is a relational job. Somewhere down the line, what you're doing is influencing human relations and impacting society around you, whether it's customers, colleagues, or the public at large. Most of us do better in life the more we practice building relationships with a diverse group of people.
Don't just wait for it to happen
Alex: To wrap things up, what is the one thing people can do right now to increase their chances of making friends at work?
Shasta: Pull out a small piece of paper and write down a list of three to five people with whom you want to build or maintain a relationship so that by the end of coronavirus, your friendship has gotten closer.
Just writing down those names can be very powerful, because it will push you to be proactive in looking for ways to build your relationships. You'll start asking, "How can I have a more meaningful conversation with this person?" or "How can I interact more consistently with that person?"
That's what you want. It's really important to not leave friendships up to chance. That's why I titled my first book Friendships Don't Just Happen. They really don't. Even if some of your relationships felt automatic, you'll look back and see that they only happened as a result of spending regular time together (consistency), getting to know each other (vulnerability), and enjoying each other (positivity). Identify the people you want to prioritize. Reach out to let them know you're thinking of them. Send them an article that reminds you of a conversation you had, or follow up on how their meeting just went. Be intentional in identifying the people with whom you're committed to maintaining a close relationship.
Alex: Going back to our conversation around diversity, should those three to five people be those with whom we already get along well and feel comfortable, or is this a good time to try to expand?
Shasta: I'd say pick a few people you're already close to, and add one person that's intriguing to you, or different from you in some way. That person doesn't necessarily even have to be a friend—it could be more like a mentor. I love that idea of building a new bridge, challenging ourselves to add a name that stretches us.
Do that and perhaps coronavirus can actually become a valuable opportunity to practice building those relationship skills!
---
Article by Alex Steullet. Edited by Ade Lee and Mina Samejima. Main visual by Ayami Takano. Photographs courtesy of Shasta Nelson.