Find Independence in the Comfort of Being Yourself
Interview with Prof. Shinji Kajitani - University of Tokyo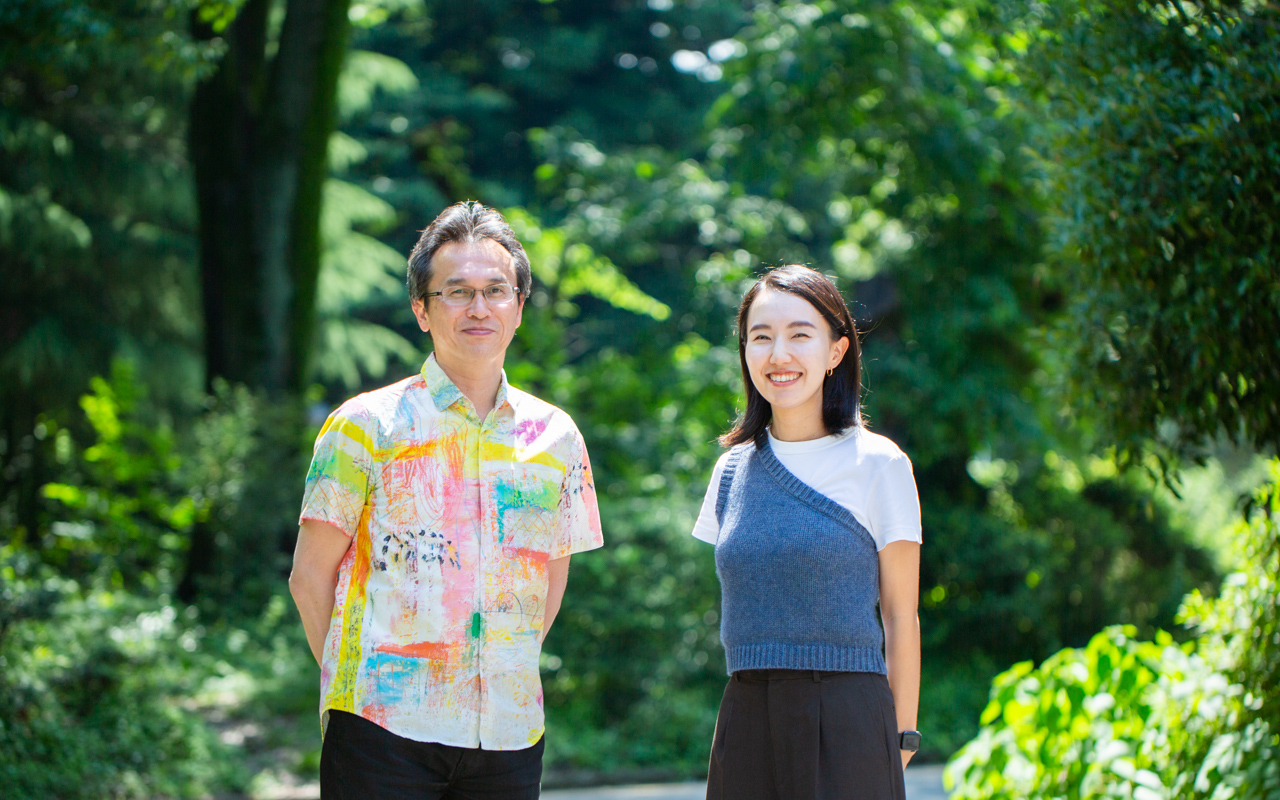 As we go through periods of change like the coronavirus pandemic and workstyle reforms, more and more life options are becoming available to us. This abundance has led many people to fret over what path to choose, or how to find happiness.
Maki Jimbo, the editor in chief of our Japanese sister publication CybozuShiki, wanted to know how we should go about finding the work and lifestyles that suit us as individuals. She figured the correct way must be the product of our own choices—which we make independently, but then effect in teams. The will to achieve independence must be common for everyone in the team, even though the pace of individual journeys may differ. That's why independence doesn't have to be something we impose on ourselves, but rather something we pursue with others.
However, interpretations of independence vary widely, and neither Maki herself nor Cybozu have a clear and conclusive definition. To better understand what independence means at work, we sat down with Prof. Shinji Kajitani of the Graduate School of Arts and Sciences at the University of Tokyo, who actively endeavors to bring philosophical discourse to universities and organizations.
More choices don't equal more happiness
Maki: Professor Kajitani, thank you for agreeing to share your thoughts on the topic of independence at work.
Shinji: It's my pleasure, though I wonder if my insights will be of use to those working in a corporate environment. In a university setting, there aren't the same hierarchical relationships as those typically found in corporate organizations. There aren't people before whom you're supposed to bow your head.
Maki: That's precisely why we wanted to hear your thoughts, since you provide a perspective different from the one most corporate employees hold. Before we begin, let me give a little background information on Cybozu's workstyle.
Our motto is "100 people, 100 workstyles." Every member can decide their hours, place of work, contract type, and negotiate the corresponding pay through discussions with their manager. The result is many different options, from which it can be difficult to choose. In order to realize a variety of workstyles, members are required to exercise independence—but I think independence is achieved on a spectrum, not something you either have or don't.
Shinji: From the outset, having more choices doesn't necessarily lead to greater happiness. Thinking and deciding for yourself can be a burden. Some people would rather have predetermined options laid out before them, rather than having to decide on their own working conditions.
Of course, this observation probably doesn't fit in with Cybozu's idea of an independent workstyle. However, there is the problem of how many employees actually want that kind of workstyle, and whether or not they have the means of achieving it.
Maki: Definitely. There are many who are already struggling with the challenges of an independent workstyle.
Shinji: That's why it's really important to carefully consider whether having a lot of options is actually a good thing or not.
Maki: As Cybozu continues to grow, the need to address this question will continue to grow. We want diverse members to enjoy working here, and we want our organization to be a prime example of teamwork. In order to do so, what range of options should we offer? I hope our conversation today can help us consider the kind of company culture we want moving forward.
Responsibility for other people's choices
Maki: At Cybozu, we define independence as both making one's own choices and taking responsibility for their outcomes, all while accepting the importance of relying on others to achieve one's ideals (it's alright to depend on multiple people). What do you think of this definition?
Shinji: It's certainly a valid way of looking at the issue. The problem is, in Japan, people often find themselves having to take responsibility for the failures or issues they face, even though those problems may have stemmed from decisions made by other people.
Let's take exams as a typical example. If a student fails, it is often assumed they failed because they didn't try hard enough. But is that really true? At school, students are basically forced to attend classes and submit homework assignments. They are given little choice about which subjects to study, and when and how to study them. Yet, when a student fails, they have no choice but to accept responsibility for their failure. I think that's extremely unreasonable.
Maki: I see. If you're not free to make the decision, then you can't reasonably be expected to take responsibility for it.
Shinji: Exactly. Really, teachers shouldn't be forcing their students to do homework, but should leave the decision to do homework or not up to the student. Then, students can decide to do the homework they believe is useful for them. As a result, teachers can step back, observe and only give out homework that is useful for the student.
Also, if the student doesn't do their homework and fails the exam, then responsibility for failure can be placed squarely on them.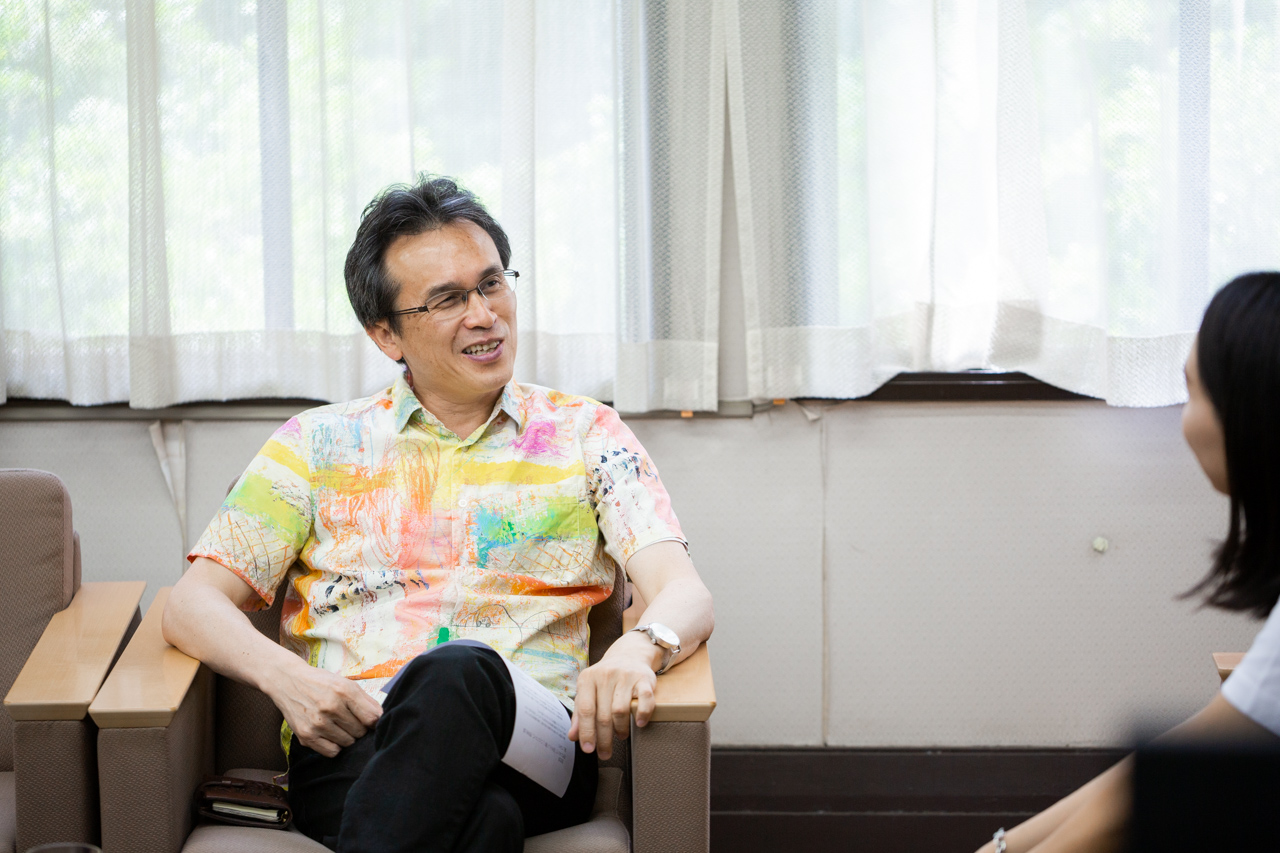 Are optional nomikai really optional?
Maki: Being forced to take responsibility for the consequences of other people's choices happens a lot in organizations as well.
Shinji: Yes, failure to follow the instructions of your boss might result in you being blamed—told that you're not putting in enough effort.
I also think there are a lot of pseudo-choices in companies. Take the 'optional' nomikai (professional drinking party) for example. If you go drinking with your boss, you might be able to develop your relationship, which leads to advantages when you have to ask something from your boss. Since participating in the nomikai is so beneficial, it becomes a de facto obligation. In cases like these, the options you're given aren't valid options, but pseudo-choices with a predetermined 'best' option.
Maki: So even if the boss doesn't intend to give favorable treatment, the end result might still be favorable treatment.
Shinji: Right. Therefore, having a variety of options isn't the same as being free to choose.
Let others pull you along
Maki: The more I listen, the more I feel like it must be difficult to achieve a free workstyle. However, I also get the impression that your workstyle is rather free. Is it?
Shinji: Well, it's true that the hierarchical relationships in my workplace are not as strict as in a corporate setting, so I may look free by comparison. However, I'm also subject to the requests and instructions of others.
That being said, I don't do anything I'm unwilling to do. If something doesn't sit well with me, I'd ask if it's really necessary, or give suggestions in order to effect change.
Maki: So basically you can go with the flow, but then object if there's anything you're unwilling to do. That sounds like a good approach, especially for people who have trouble making their own choices.
At Cybozu too, if something about the way you work makes you feel uncomfortable, you're encouraged to raise questions and voice your opinions. Then, we have an open discussion all together as to how we move forward.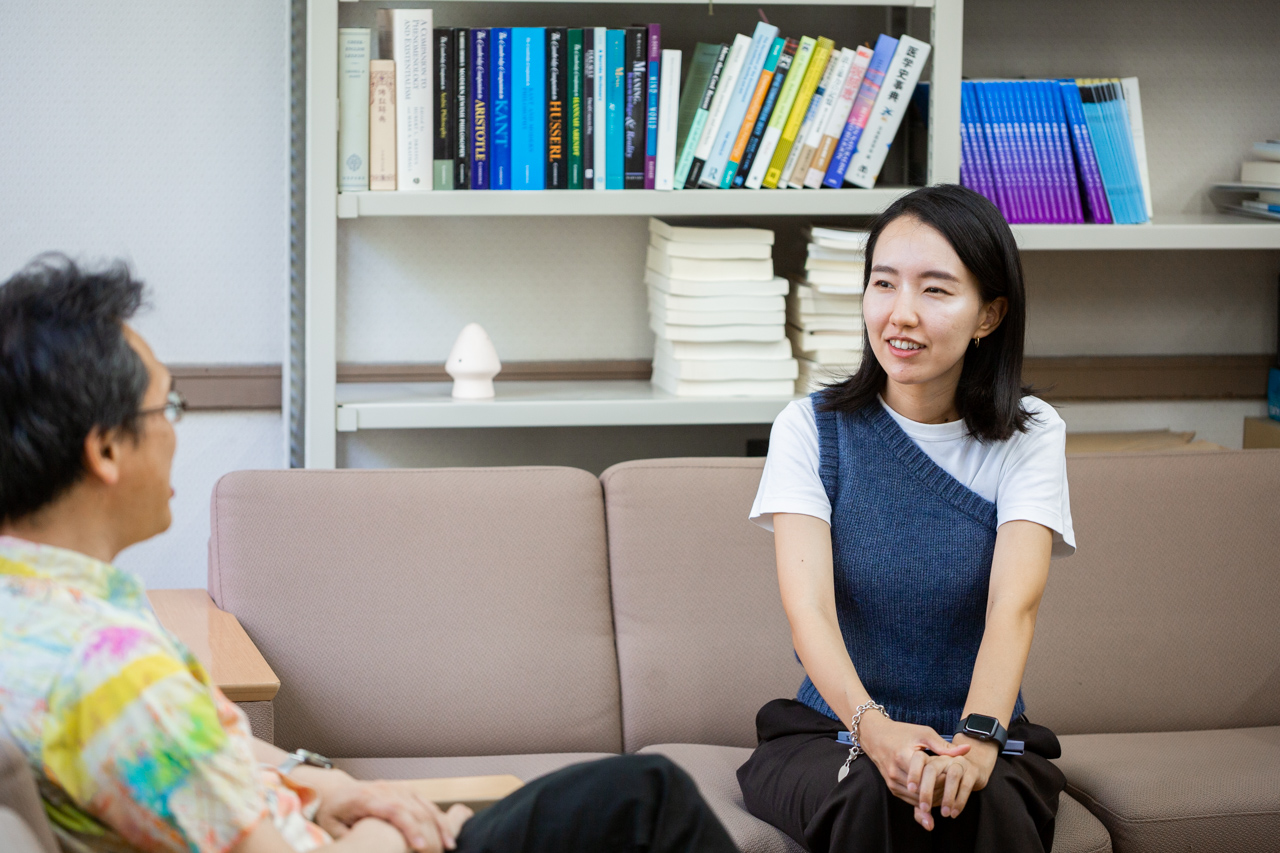 Shinji: A workplace where you can openly express your thoughts and opinions is a good workplace, isn't it?
At the same time, it can sometimes be gratifying to not have to choose for yourself. By getting pulled into something, you might find yourself facing an opportunity you wouldn't have access to or chosen if you were on your own.
By finding your own way of getting involved in situations that you didn't instigate, you end up gaining new knowledge and perspectives. You may end up broadening your horizon, leading you to develop a workstyle that's truly your own.
Maki: When talking about getting dragged into corporate activities, transfers to different departments and locations come to mind. A new department can introduce you to a whole new world—one you may never have chosen for yourself. Such a transfer system may be good, provided you're in an environment where you're able to voice your opinions and objections.
Accept the consequences of freedom
Shinji: Occasionally, companies will get in touch wanting advice on how to introduce philosophical dialogue in order to increase their employees' sense of initiative. The problem is, what they usually mean by 'initiative' is employees doing what their managers want—just without being asked.
Maki: They're not actually interested in employees making their own decisions.
Shinji: Right. Greater initiative comes with greater freedom, which includes the freedom to not obey managers. If leaders really want to increase the initiative of their team members, they have to be prepared to accept the consequences of greater freedom.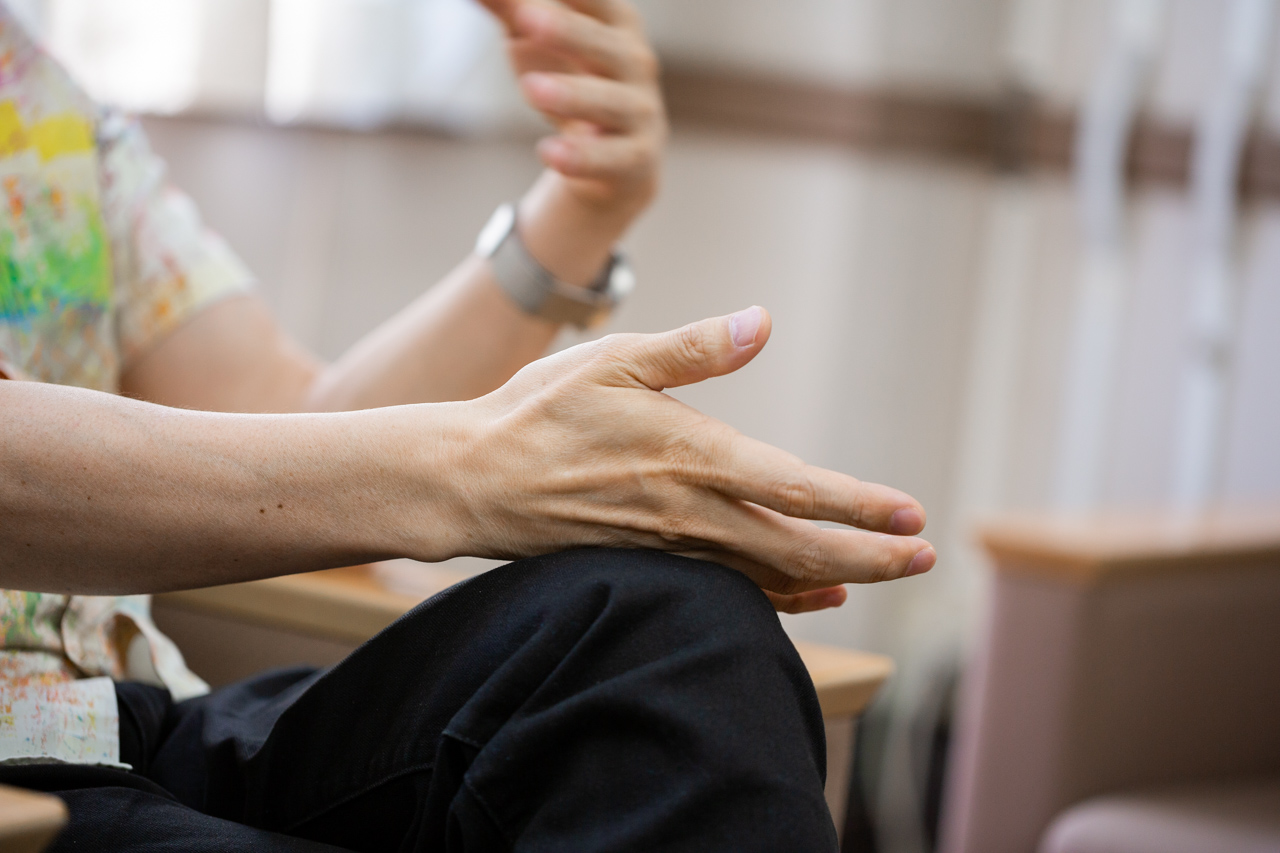 Maki: Since working independently implies thinking about what you want to do, and accepting responsibility for your choices, I thought of it as an individual problem for employees. But I guess there are also consequences for management.
Shinji: Many leaders don't think of the consequences of promoting a greater sense of initiative. When employees become more proactive, they are more likely during meetings to express opinions that go against the proposals of their managers. Leaders need to be able to accept dissent from their subordinates, and create an environment where everyone can speak freely.
If you're not able to accept it, then don't go around saying you value initiative. If employees see their leaders preach values they don't actually practice, trust in leadership will gradually erode.
That being said, not every human relationship requires open-book communication. There are plenty of situations where it isn't desirable to express what you truly think, out of concern for the other party. However, if we are to respect the freedom that's truly important to an individual's life, then we need to establish a relationship where the other person thinks, "I can say what I truly feel to this person, and they will accept it." I believe having such a sense of security within a company is a good thing.
More evaluation criteria can mean less freedom
Shinji: I also think an independent workstyle is deeply tied to evaluation. When evaluations come into play, a ranking is established based on how people perform, which can lead to exclusion.
If you want to improve your evaluation, you have to become subordinate to your boss or the management at your company. Working while constantly worried about contributing to your company is not independence, since you depend so heavily on your evaluation.
There are some companies where evaluations are based not only on how much profit you generate for the company, but also your overall contribution to the team. In such companies, your pleasantness becomes a criteria for evaluation—in the sense, "that person is unpleasant to work with." Every single move you make in your working life can have repercussions on your evaluation.
The more multifaceted your evaluation criteria become, the more freedom they take away, so I don't think multiplying evaluation criteria leads to more freedom at work.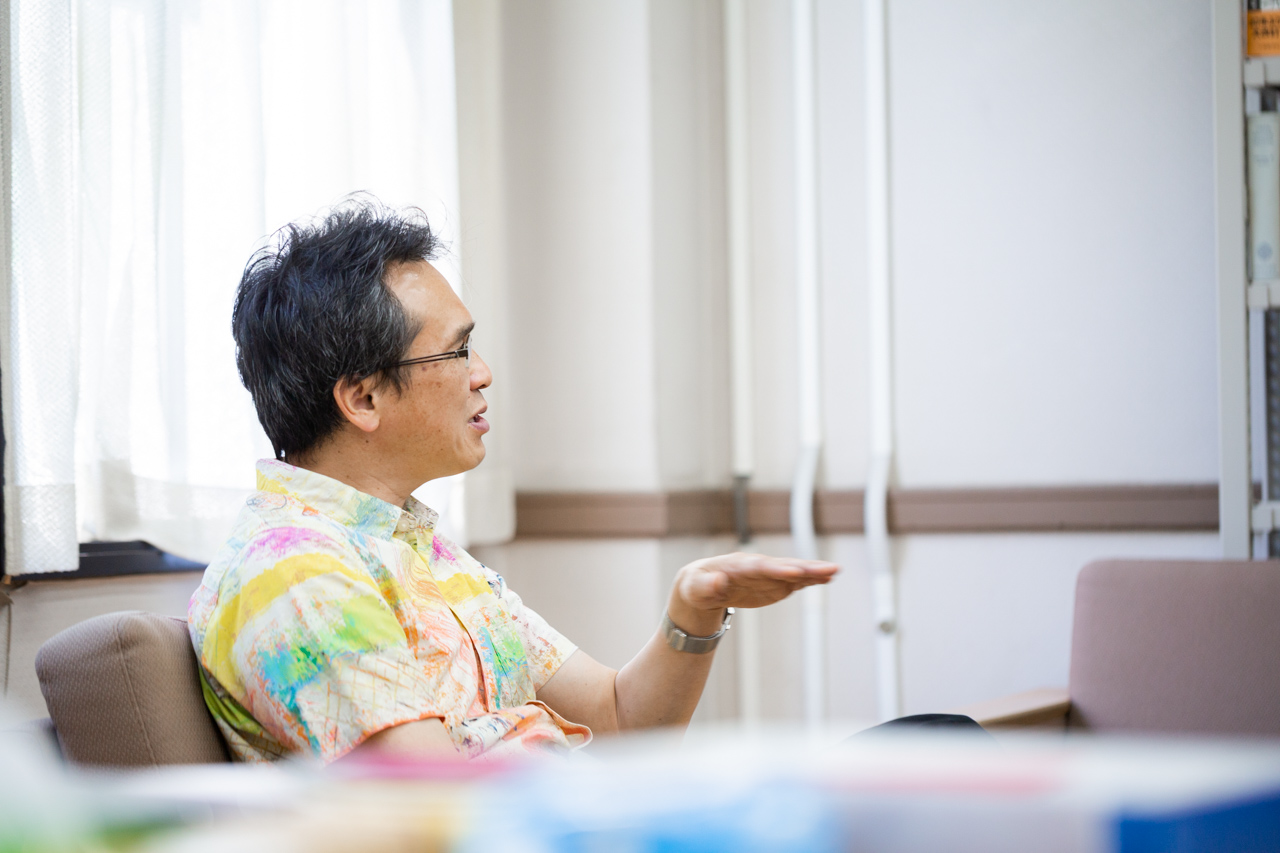 Independence is linked to comfort
Maki: Evaluations sound like a complicated topic, since you can't get rid of them altogether.
Shinji: You're right. However, if you measure independence by your continued contribution to a company—taking into account evaluations—then the moment you can no longer contribute to a company, due for example to injury or illness, your value and independence are both completely lost, right?
Because of that, I wonder if independence isn't more of a state where you're not required to contribute. A state where you can do whatever you want... That, I think, is where the answer lies. Independence has to do with how much you can be yourself. Of course, I don't think there's any situation where you can fully be yourself 100% of the time. But simply put, I think part of independence is just being comfortable.
For example, this may sound strange, but for the past couple years I've been wearing a bear costume in front of Nagoya station for a fundraiser.
Maki: What?!
Shinji: The fundraiser is organized by the National Children's Welfare Center (全国こども福祉センター). Its main purpose is to prevent child delinquency by providing children with a place to stay. We reach out to those who find it difficult or are reluctant to contact aid agencies.
I go to Nagoya once a month to participate in this activity. Nobody asks me to go. I'm not indispensable to their effort, so it's not strictly necessary for me to go. I think I go precisely because I don't have a fixed role, and I'm not really useful.
When I'm at the university, I act as a "teacher," and when I'm at home, I act as a "parent." But when I participate in the fundraiser, I'm a nobody—in a way that doesn't cause me any suffering. Everyone calls me Mr. Kajitani, and treats me the same way they treat the other participants. That makes me feel comfortable.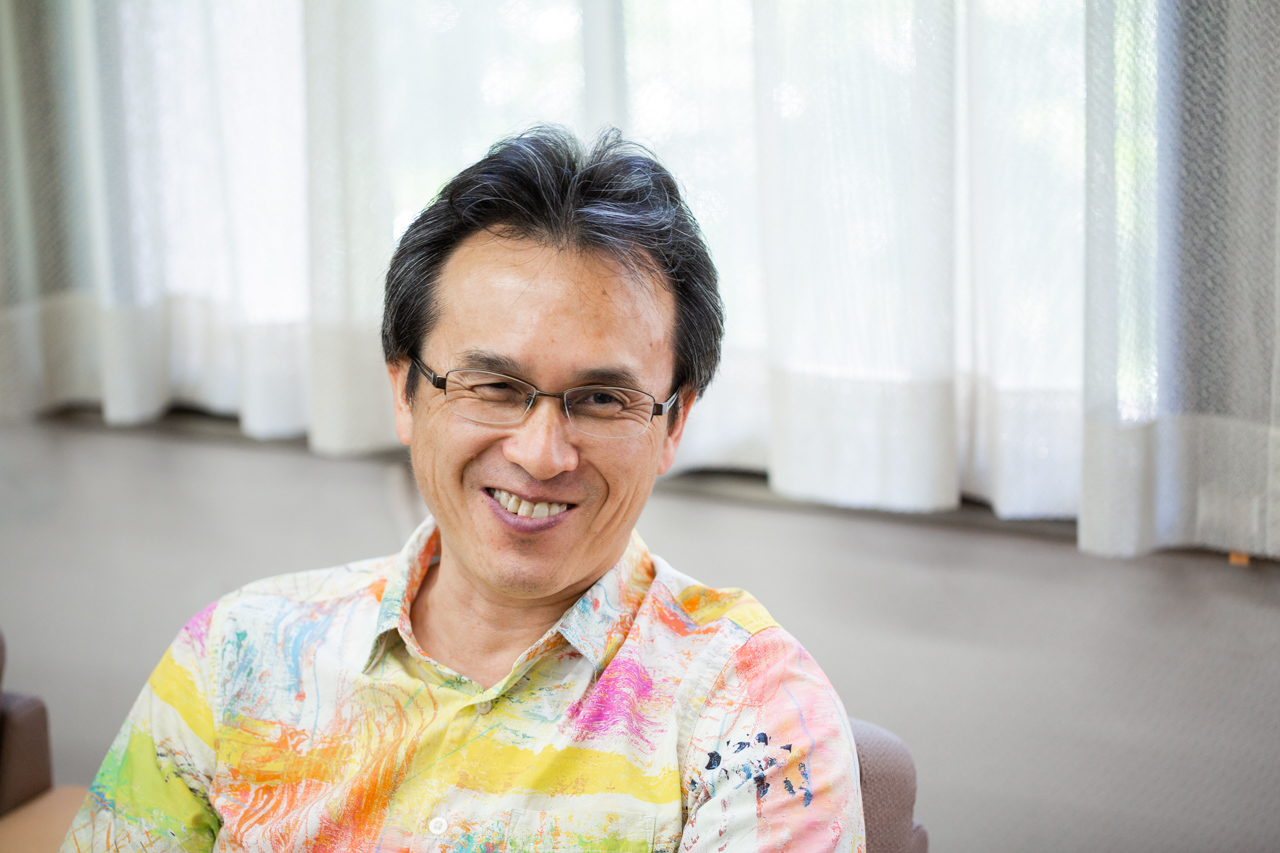 Maki: So it's a place where you can step out of your usual role. I imagine the people there are moved by a common mission, right?
Shinji: Not really. I think most of the people there don't really know what the organization is trying to achieve. I've been going there for two years and honestly, I'm not entirely sure. (laugh)
It's important to sometimes not have a clear goal. To not bear the expectation of having to achieve something. Participants there don't evaluate their own performance, nor the performances of others. When they're there, they're able to express themselves and be who they are, which is the most comfortable place to be.
A good company accepts you, even at your worst
Shinji: When doing streetside activities like fundraising, we don't have a clearly defined objective, so participants generally decide what they're going to do on the day. I think it's important for everyone to participate in some way, or to express their opinion to some degree. Situations where people are simply asked to follow instructions without giving their consent should be kept to a minimum.
In addition, there's an exchange of information. If a person wants to do something, others will contribute by giving advice. As a result, even if that person ends up failing, the responsibility shouldn't be placed solely on them. This type of environment might be conducive to independence.
Maki: I see; as opposed to a situation where people are expected to take full responsibility, which makes people afraid of failure and weary of new challenges.
Shinji: Correct, and the clearer roles are defined within a team, the clearer responsibility becomes, which means more frustration and finger-pointing when something goes wrong.
If you dare to make the locus of responsibility more ambiguous, then when something goes wrong, you end up with people thinking, "Well that didn't go well now, did it? Let's all try again together."
Maki: You're talking about joint responsibility?
Shinji: Not quite. I'm talking about no responsibility—which isn't the same as being irresponsible! Everyone accepts failures together and makes use of lessons learned in the future. Even without responsibility, nobody wants to fail, so people will still try to devise ways to make things better. And ultimately, I think things do get better. On the other hand, trying to make sure no mistakes are made from the outset ends up making things more complicated for everyone.
Maki: I see. A bit of ambiguity could help people emotionally.
Shinji: Yes. In a corporate setting, when something goes wrong, the manager is seen as responsible. Their reputation is likely to suffer, which can lead to a pay cut or demotion.
To avoid this, some managers will cover up the mistake, or shift the blame over to their employees. This system of roles, responsibilities and punishments take a toll on everyone.
Maki: So if I can detach myself from those three things, I'm more likely to be able to work without fear of the expectations or challenges arising from my responsibilities.
Shinji: Then the manager would be able to say the mistake was nobody's fault. Even if they had the last say, there is no reason for the manager to be punished.
Maki: Speaking as a manager, that kind of thinking would be very helpful!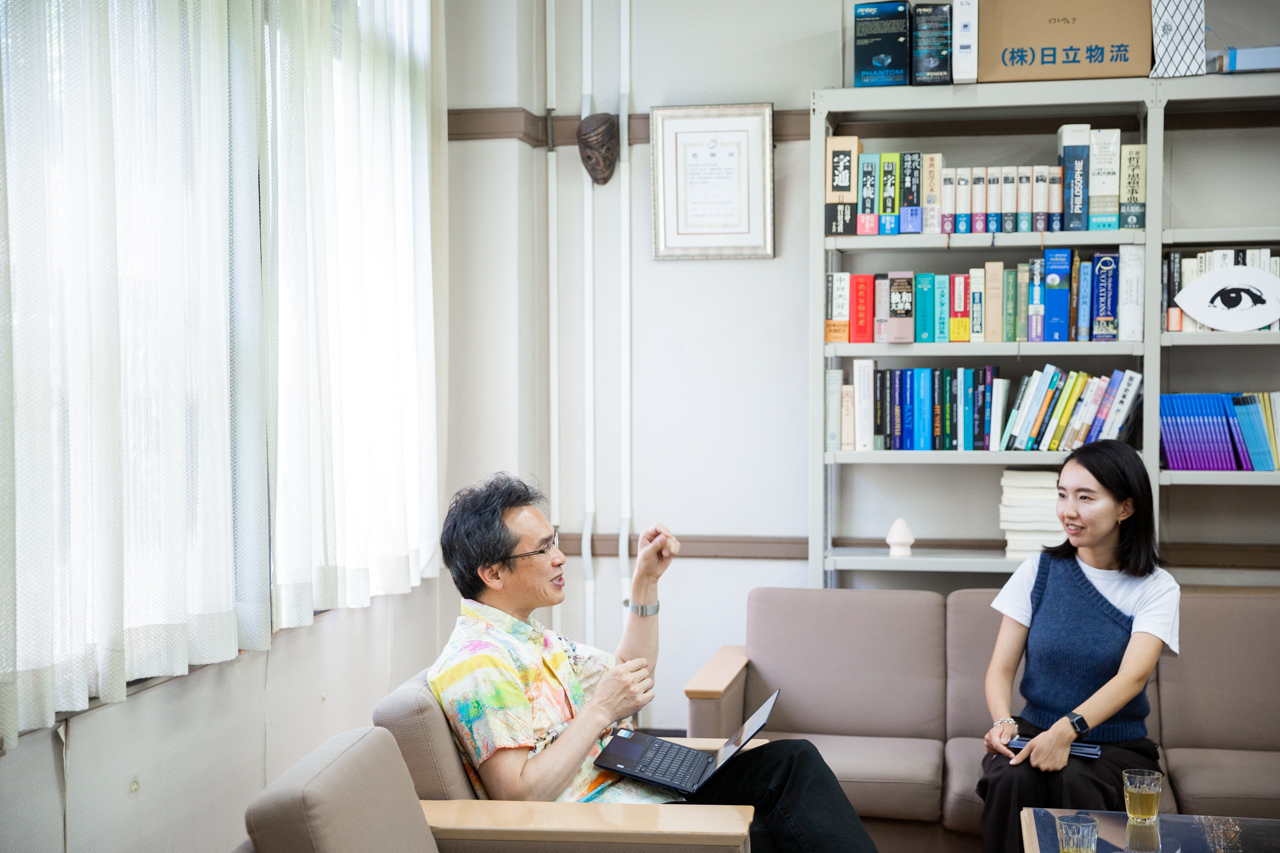 Shinji: Except in cases where the damage is irreparable, I think most situations can end with a simple apology. Organizations work better when that's the case.
Independence, when achieved via this idea of "contribute or be punished," is very restraining. You have to know that when you mess up, at some point, people will go, "Oh well," and forgive you.
On top of that, I think a company that accepts you even when you're at your worst is a good company. If you have to work hard to constantly prove your worth, then the moment you're no longer able to demonstrate that worth, there won't be a place for you in the company.
Maki: Our editorial team has recently been exploring the theme of what it means to be a good company. A company where you feel like you belong, even at your worst, sounds like a good definition.
Shinji: Thanks, although I don't know if it would be the most cost-effective way to run a business. (laugh)
However, I think if a company can make its employees feel supported even when they fail, then its employees will be able to work independently, and with peace of mind. They might even work harder, and want to stay at the company for longer.
---
This article was originally written in Japanese by Kaori Sasuga. Edited by Takumi Nosaka. Photographs by Makoto Tochikubo. Translated into English by Ade Lee and Alex Steullet, with additional editing by Megumu Tamura.
Editor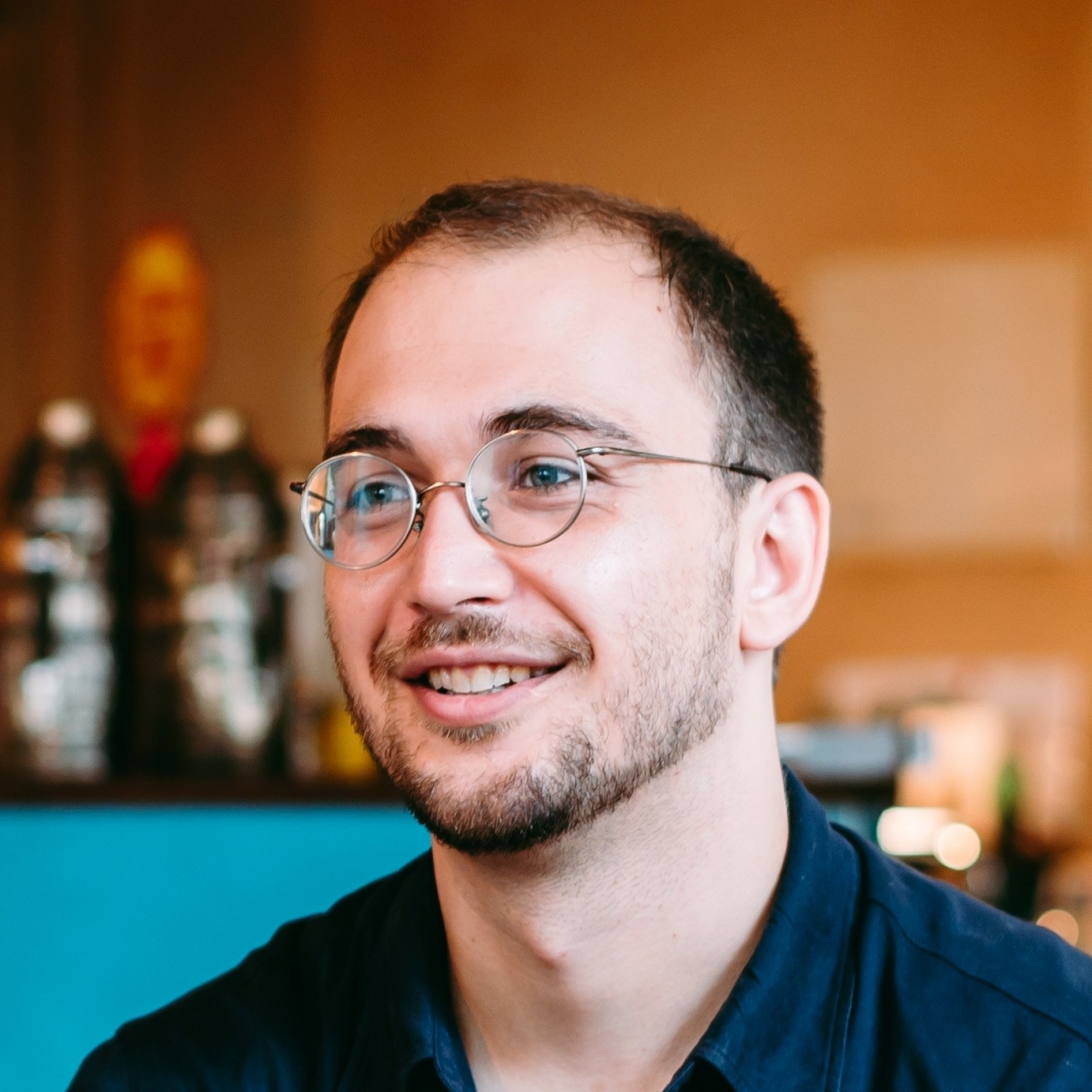 Alex is the editor in chief of Kintopia and part of the corporate branding department at Cybozu. He holds an LLM in Human Rights Law from the University of Nottingham and previously worked for the Swiss government.