To Succeed Remotely, Leaders Must Redesign Practices to Reinforce Culture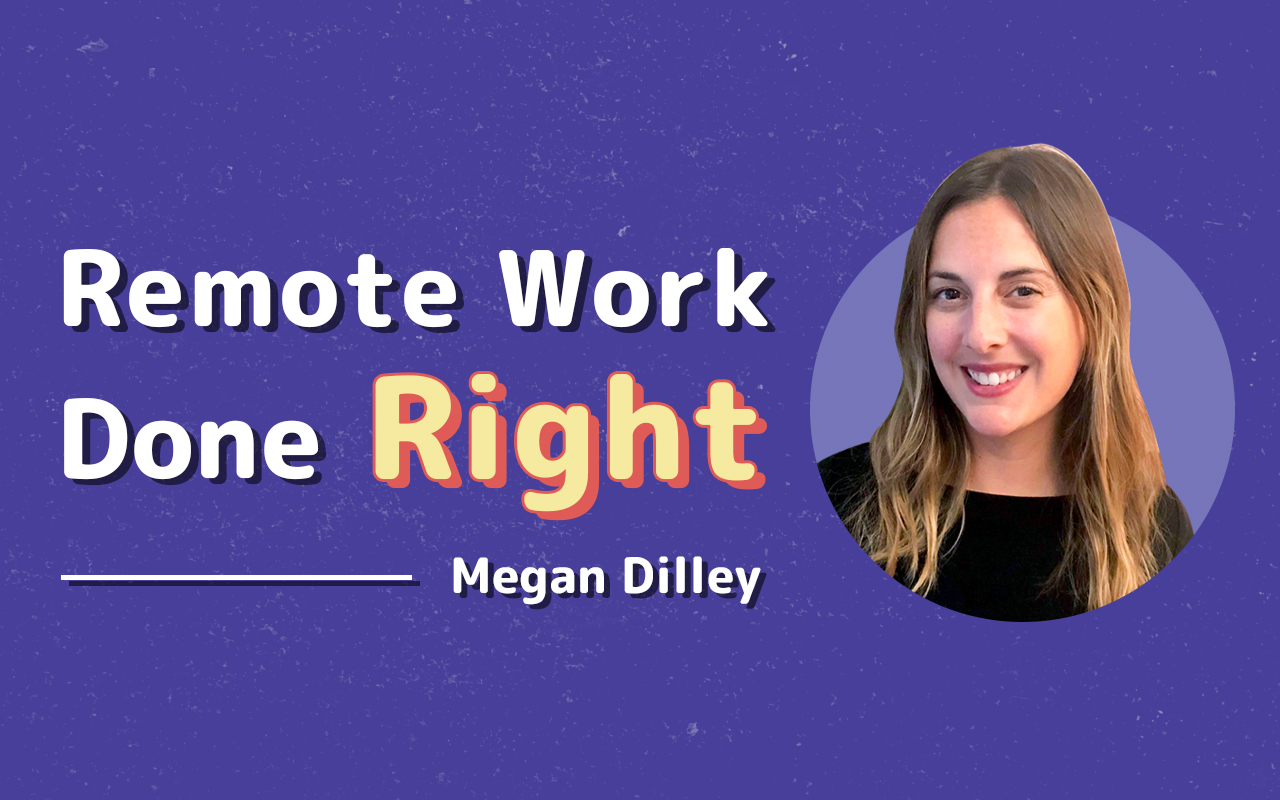 For years, we've been teaching managers and leaders that culture is built on relationships, which are developed through constant interaction. The kind of interaction you can only get by being in the same place at the same time. Unfortunately, the ongoing health crisis has made those interactions hazardous, so leaders now need to imagine a new paradigm for designing and preserving a robust company culture.
That's where Megan Dilley comes in. Megan is a senior consultant at Distribute Consulting: one of the world's foremost consulting firms on remote work. Her company has been helping companies and the public sector transition to remote work since before the pandemic. We asked her about the many benefits of remote work, the leadership needed to succeed remotely, and some concrete advice on how to construct and maintain a united company culture in a divided spatial and temporal work environment.
A transparent transition
Alex: Before the pandemic hit, how were you pitching the benefits of remote work to companies?
Megan: The first thing we focused on was cost savings and overall impact on the bottom line. It's estimated you save an average of around $11,000 per year for each part-time worker, and double that for each full-time worker, when you go remote.
Second, improved well-being and flexibility for your employees actually increases productivity. Removing commutes and supporting employees to leverage their personal workstyles to do their best work, instead of leveraging the office and 9-5 working hours, makes a powerful difference for people. It's been shown that because of these improvements, when remote work is implemented correctly, remote workers are often more productive than office workers.
Third, you broaden your talent pool. You have greater access to people throughout your country region, and even the world, ensuring you can get the best talent wherever they are, and in the process increase diversity on your team.
Megan: Our company is particularly attuned to the socio-economic implications. In the U.S., if you take a rural community in Utah and skill-up the workforce so they can apply for jobs at companies in San Francisco, you provide those workers with tremendous opportunities. They get access to good jobs while also being able to stay with their families and their communities. We believe that's very important.
Finally there are the environmental benefits. Remote work reduces the need for office space, commuting time, things like that.
Alex: I remember before we were forced to work remotely, some people felt nervous about remote work because it felt too much like a cost-saving measure. How can companies go about addressing those concerns?
Megan: To show their employees that it's not only about cutting costs, employers and organizations can provide infrastructure and wellbeing support to their remote workforce. That can mean helping team members set up healthy and productive workspaces by providing a stipend to purchase an ergonomic chair, sending employees an extra monitor, or allowing people to safely come to the office and pick up the equipment they need. It can also mean enforcing paid time off and regularly unplugging outside of working hours.
If organizations can't provide that support, they need to communicate their plans to their employees. Admit they can't provide a stipend right now, but offer guidelines on setting up a productive remote workspace.
The key is for the organization to answer questions with the same level of curiosity and openness as the workers who are asking them. Leaders have to communicate transparently with their teams. If there is no plan yet, let people know where you are in the process, what questions are still open.
At the end of the day, you want a remote work practice that is sustainable for the future. Right now it can be hard to imagine because we're in an emergency work-from-home situation, with people having to spend a lot of time juggling work with caring for family members. Once the emergency situation is over, the focus can shift back toward building something truly sustainable.
Redesign practices to reinforce culture
Alex: You said that for remote work to be productive it needs to be implemented correctly, and a big part of that is culture. What does a good culture look like?
Megan: Let me start by telling you what a good culture is not. It's not perks and benefits. I remember working in the San Francisco startup culture, where companies would emphasize ping pong tables, kombucha kegs and fancy coffee. Culture is not about those things. Since those kinds of perks have to be experienced in the office, they are simply a way to attract and retain people when you have a lack of culture.
Culture is about defining and elevating the unique personality of an organization. It shouldn't be location-dependent. You want to build the foundation of your business around a mission, vision and core values that you can then infuse into the everyday experience of team members. Create experiences that connect your team members to the company and each other.
Companies that go remote may realize some of their values no longer ring true. These things need to be reexamined on a regular basis to make sure they still fit.
Alex: I've heard managers argue that for the vision, mission and values of a company to permeate, there needs to be some level of physical proximity. What would you tell these managers?
Megan: That's a very natural thing to believe in. We've been raised to believe that for people to be productive and connect, we need to sit next to one another and spend time face to face.
However, we find that isn't actually the case. We conflate physical proximity with connection when in fact they are separate. For instance, how often do you hear people say they feel isolated and disconnected, despite being surrounded by colleagues?
When going remote, you want to be able to redesign what you were doing in person, the culture-building practices that were effective, and optimize them for virtual. You'll find that some practices no longer work. A classic example is after-work happy hour. Maybe it used to work in person, but not so much when using video conferencing software. Far fewer people want to hang out in front of their screens after having spent all day in virtual meetings with team members and clients.
This is where managers have to ask themselves what avenues for connection they can provide for team members to build meaningful connections. It's an opportunity to redesign and think about how people really experience company culture.
Alex: What are some examples of those avenues?
Megan: There are many! One of the first things you realize is that while work-life balance has always been a problem, it's exacerbated now that we're all fully remote. Because of that, we shouldn't be asking one another to spend all of our time together synchronously.
Instead of a happy hour or a morning meeting, maybe use your company channels on Monday morning for every team member to share their weekend experiences. Maybe a picture of something they did, or even a short message. That's something people can do asynchronously, particularly in companies with coworkers spread around the world in different timezones. It also doesn't require as much energy as synchronous interactions.
When you do connect synchronously, make the most out of it. You can try starting team meetings with a fun warm-up question that invites people to share something, be vulnerable and have a little fun together.
It's all about finding these micro-moments; that balance between creating opportunities for enough positive interactions without taking up too much of people's time.
Alex: What about some activities that could specifically help companies highlight their vision and values?
Megan: Look at the rituals your company has on a daily, weekly, monthly, quarterly and annual basis. These could be purely productivity-focused rituals meant to ensure business continuity, or more fun, engagement-building rituals. For example, your daily ritual may be a stand-up with your whole team, then weekly a recap meeting, monthly a broader all-hands meeting, and annually some sort of retreat. On top of that, you may periodically have some birthdays and milestone celebrations.
Once you've listed your rituals, the first level is to ask yourself whether they are necessary when working remotely, and whether they can be done asynchronously. Remember to give people opportunities to be flexible with their time. Here you can already do some cutting and redesigning.
The second level is to ask yourself, "How are we offering people an opportunity to experience our core values within each of these rituals?" Say one of your values is curiosity—is your weekly team meeting allowing members to experience curiosity? If not, maybe rotate and have someone on the team share an article or teach the team something new. Those practices are how you get people to see and feel culture in action.
When doing this redesign, make sure you don't overcomplicate things. It can be tempting to add a whole bunch of new events to the calendar with the hope that it will help people connect. You'll be better off looking at what you already have and applying your core values to those events.
Then, over time, you may find gaps. Perhaps people are looking for more connection, so once a month you can organize an opportunity for people to connect on a higher level. Find a way for people to come together and get creative, learn something new about one another, share in a meaningful experience, and have fun.
Alex: Sounds like managers really have to step up to make this all happen.
Megan: Absolutely. This is a major shift in how organizations behave, so buy-in from managers is a must.
New leadership for more resilient organizations
Alex: How do you see remote work after the pandemic? Will companies stay fully remote, give up, or implement a hybrid model?
Megan: It's definitely going to be a mix, based on the roles and needs of the company. We're looking at the location of workers as an asset to be leveraged, more than a constraint. We believe the large majority of organizations who can work remotely will adopt some level of long term, flexible work. For some organizations it will make perfect sense to stay fully remote and location irrelevant, while for others, an office may become the central hub, pulling in team members on a set cadence when operating in person is key.
Companies have the opportunity to invest the time and energy it takes for their workforce to be supported, while also providing the training and tools needed for people to self-manage. Training leaders to manage remotely is very important. Soft skills like empathy and communication are more valuable than ever in a virtual setting.
So there's really no short answer, nor is there a one-size-fits-all approach. I expect we'll see a lot of hybrid organizations, but over time, the majority of companies who can effectively work remotely will adopt more flexible work practices.
When you look at what's optimal, it's often better to be at least somewhat location irrelevant. You can still have office space where people come in, rotate, interact in person. You can still have quarterly or annual meetings, retreats and things like that. You can even do those things without office space. It really depends on your company.
Just keep in mind that the less reliant companies are on a fixed location, the more resilient they become. That resilience will be a critical factor for the organizations of the future. And even if you have just one employee working remotely, you are a remote organization, because you'll have had to adjust your practice in order to provide that one employee with an equal experience.
Alex: You mentioned that managers need to acquire a new skill set to manage a remote organization. What do you mean by that? What skills do they need?
Megan: Soft skills have always been important for managers, but in our current situation, they are more than that. They're indispensable.
Organizations will no longer be able to afford having managers who are reluctant to acquire soft skills. Things like empathetic leadership, expressing vulnerability, servant leadership and so on. Those can be hard to acquire for a certain personality type; it's an uphill battle for some people. So perhaps for them, management is no longer a great option, and they will be happier as individual contributors.
On the flip side, this is an opportunity for people who excel at human relations and understanding people to shine. They can use the current situation to support and uplift their teams, and really get to the essence of how to motivate individuals.
Building a relationship of trust is incredibly important. Remotely, you can't look across the room to see your team members at work. You need to find the appropriate level of trust, while also setting clear expectations and communicating them effectively. Be curious, supportive, and persistently ask your team what they need to succeed. Have difficult conversations when they need to be had. Be there for people in times of stress and anxiety.
If you're finding it difficult to build trust with team members, start with yourself and lead by example. Get in the habit of offering up your own fears, hopes, challenges and vulnerabilities, and share something that team members might not know about you.
Alex: Among all the things we talked about today, what is the one thing that companies should be the most careful about when going remote?
Megan: The biggest risk for companies is a lack of trust and structure. Which leads to things like burnout, micromanagement, and too many meetings that hold individuals back from experiencing true productivity and self-management. As a society, we are coming out of an era where we prioritized presenteeism. We got accustomed to seeing people in the same space. We're learning that it's no longer necessary to operate this way.
Productivity and success are not tied to a specific location. They depend on open communication and trusting relationships with team members. Once you establish trusting relationships, you'll have better insight into what motivates people to reach their full potential. You'll also be more skilled at getting through difficult conversations in a productive way.
Ultimately, trust and structure is what will put your employees on a path to happiness, and your company on a path to success.
---
Text by Alex Steullet. Edited by Ade Lee and Mina Samejima. Top visual by Dan Takahashi. Photograph courtesy of Megan Dilley.